Apple reminds customers why the iPad is best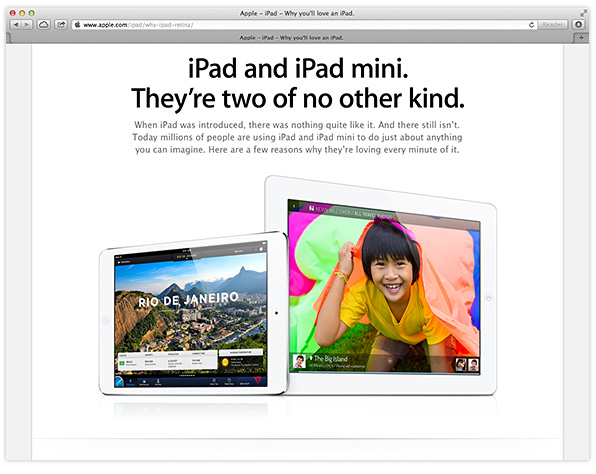 Following the introduction of a new iPhone advertising campaign on its website last weekend, Apple has launched a similar promotion for the iPad. The Cupertino company has added a new "Why iPad?" page featuring both the iPad and the iPad mini, which highlights just a few of the reasons why customers love the devices so much.
The first reason cited is customer satisfaction. J.D. Power and Associates ranked Apple "Highest in Customer Satisfaction Among Tablets". In addition, the iPad took the top spot in The American Customer Satisfaction Index (ACSI) for the category of personal computers.
Apple then goes on to highlight several other reasons for the iPad's popularity, including: the number of apps available (over 300,000), high-quality aluminum and glass construction, impressive battery life, LTE support, the iSight camera, iCloud, and iOS 6 – which it describes as the world's most advance mobile operating system.
Finally, the company notes that the iPad comes with something unique: support from real people. With the other guys, it says, you're not sure where to go – you end up being passed between manufacturers and software developers.
According to recent reports, Apple could unveil new iPad models as early as next month. The regular sized iPad is expected to be given the same slimmer and lighter casing as the iPad mini, while the iPad mini itself is tipped to receive a spec boost, but keep its non-Retina display.