Apple reminds customers why the iPhone is best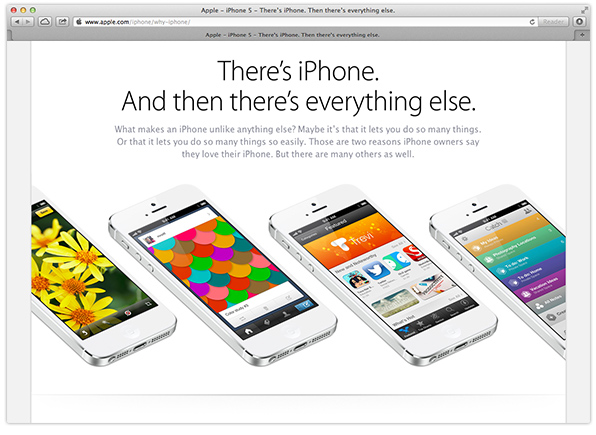 Apple has launched a new advertising campaign for the iPhone on its US website, highlighting why people love the smartphone so much. In addition to a large promo graphic on the apple.com homepage, the company has added a new "Why iPhone?" page which lists a number of reasons why the device is unlike other smartphones.
The first reason Apple cites, is customer satisfaction. The iPhone has received eight customer satisfaction awards from J.D. Power and Associates, it notes, who consider factors such as performance, design, features and usability.
Apple then goes on to highlight various other factors and features of the iPhone 5 including: its finely crafted design, high resolution Retina display, impressive battery life, LTE support, the camera – which it points out is the most popular on Flickr, iOS 6, Siri, and iCloud.
Finally, the Cupertino company points out that the iPhone comes with something unique – support from real people. With other smartphones, it says, getting hold of somebody to speak to is hard – you end up being passed between manufacturers, developers and service providers.
The launch of this new campaign is certainly timely. Last week, Samsung unveiled its latest smartphone – the Galaxy S4 – at a bizarre Broadway-themed event in New York City, while HTC are expected to debut its new smartphone – the HTC One – sometime this month.
Recent rumours have suggested that Apple will debut its next-generation smartphone, the iPhone 5S, in August. The device is reported to have the same case design as the iPhone 5, but with improved internals, including a faster processor and better camera.