Three-page contract establishing Apple in 1976 sells for $1.59 million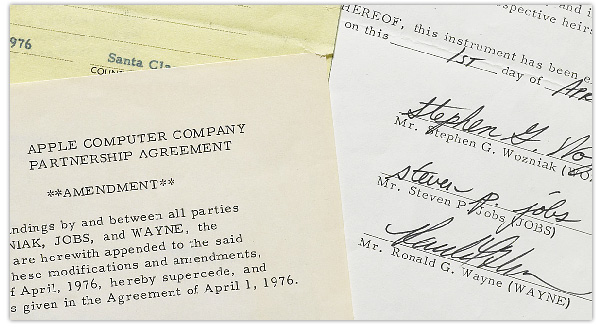 Towards the end of last month we told you about an Apple contract from 1976 which was due to be sold at auction for an estimated $150,000. That auction took place in New York yesterday, and according to Bloomberg the documents ended up selling for an incredible $1.59 million!
From Bloomberg's report:
"The bidding started at $70,000 in a half-empty room attended by about 20 people and almost as many Sotheby's staffers manning the phones. Six telephone and online bidders competed for the lot, which finally went to Eduardo Cisneros, chief executive officer of Cisneros Corp., according to Sotheby's."
The three-page contract, which features the signatures of Steve Jobs, Steve Wozniak, and Ronald Wayne, was drawn up in 1976 to establish Apple Computer as a company. Papers documenting Wayne's withdrawal from the Apple partnership just 12 days later were also included in the auction.
The seller, Wade Saadi, is believed to have paid Ronald Wayne several thousand dollars for the documents back in 1994 – so not a bad return on his investment!