Three-page contract establishing Apple in 1976 could sell for $150,000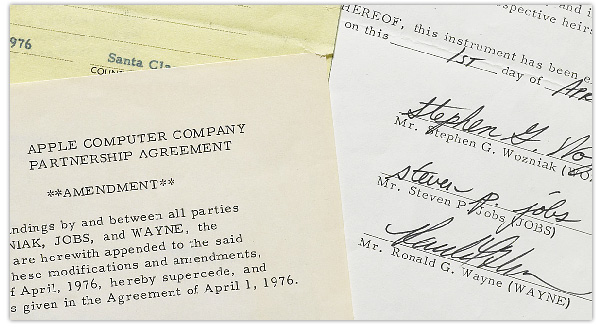 A three-page contract that was drawn up in 1976 to establish Apple Computer – with signatures from Steve Jobs, Steve Wozniak, and Ronald Wayne – could be about to fetch $150,000 at a Sotherby's auction on December 13.
Also included in the auction are papers documenting Wayne's withdrawal from the Apple partnership just 12 days later, when he sold his 10% share in the company for $800. A share which is said to be worth approximately $2.6 billion today.
According to Richard Austin, the head of books and manuscripts at Sotheby's in New York, the Apple package is certainly worth its predicted sale price:
"This is a foundation document in terms of financial history, social history and technological history."
So how did Sotheby's come to find these documents? Well, apparently, Wayne sold them to a manuscript dealer after he had departed Apple, before another party acquired them in the mid-nineties – before Steve Jobs had returned to Apple and the company was on the verge of bankruptcy.
Following the passing of Steve in early October, and the release of Walter Isaacson's Steve Jobs biography weeks later, the owner has now decided to sell the documents. Despite their $150,000 estimate, however, they may not be the most valuable documents at the auction.
There will be over 350 separate lots altogether, with the Apple contract predicted to be the third most valuable on the day. The most valuable item is expected to be a letter written by George Washington back in 1789, which could fetch between $300,000 and $500,000. I have a funny feeling, however, that the Apple contract will fetch more than $150,000 – purely because of Steve's signature.
[Via Bloomberg]