Steve Jobs: Billion Dollar Hippy documentary airs tonight on BBC 2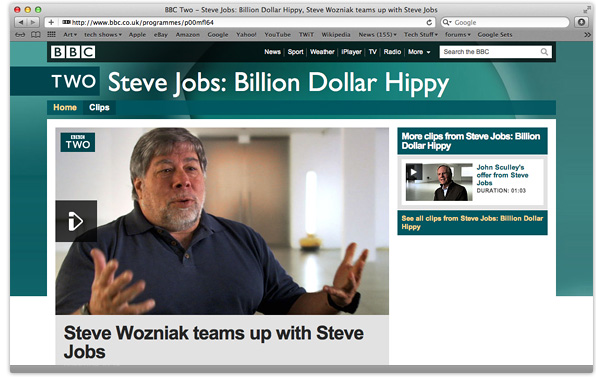 A new documentary showcasing the life and achievements of Apple's co-founder and former CEO will air for the first time tonight on BBC Two at 9.00pm. The hour-long show, presented by Evan Davis, promises to "decode the formula that took Apple from suburban Californian garage to global supremacy, telling the story of Steve Jobs's rise, fall, and triumphant rise again."
The documentary features stories from the likes of Steve Wozniak, who founded Apple alongside Jobs in 1976; John Sculley, who ousted Jobs from the company he founded in 1985; and a former Apple software chief. In addition to interviews with Stephen Fry; Sir Tim Berners-Lee, who invented the worldwide web; and brand expert Rita Clifton.
The BBC Two web page features some teasers from the documentary, including an interview with John Sculley in which he recollects his time at Apple alongside Steve Jobs, and an interview with Steve Wozniak who recalls his friendship with Jobs, and the time they both shared at Atari. The page also features a number of photos of Jobs throughout the years.
Like all of the documentaries based on Steve Jobs that have aired since his passing on October 5, this one's sure to be an enthralling watch for any Apple fan who is interested in the man who revolutionized personal computing, portable music players, smartphones, tablets, and more.
Update: Now available to watch on iPlayer