Scosche announces a new lineup of accessories for Apple's Lightning connector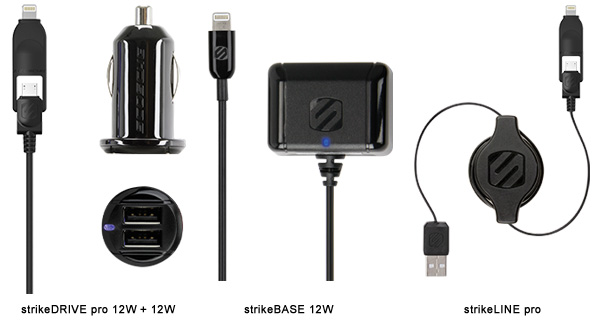 Earlier this month, Belkin became the first accessory maker to announce some third-party Lightning accessories for Apple's latest iOS devices. But Scosche isn't far behind. Today, the company announced its own lineup, which includes Lightning accessories for the home and for the car.
Kas Alves, Scosche's Executive Vice President, says the company's new Lightning accessories are designed "with flexibility in mind." They address the varying wattage requirements on the iPhone, iPad, and iPod touch; and the need to charge multiple devices simultaneously with the same charger.
As such, they've come up with these:
The strikeDRIVE 5w ($24.99) and strikeDRIVE 12w ($39.99) are two car chargers with a single hardwired cable. The former is designed for use with iPhones, iPods, and iPad minis; while the latter will charge the 9.7-inch iPad and other Lightning-equipped devices.
The strikeDRIVE 12w + 12w ($39.99) is a lot like the strikeDRIVE 12w mentioned above, but it has a hardwired, interchangeable Lightning/microUSB cable, plus an additional USB port for charging a second device. The strikeDRIVE pro 12w + 12w ($49.99) is similar, only it has two 12w USB ports and a detachable Lightning/microUSB cable — it's not hardwired in, so you can use both ports as you wish.
The strikeBASE 5w ($34.99) and strikeBASE 12w ($39.99) are designed for the home. They're two low-profile wall adapters that use a single, hardwired Lightning cable, in addition to foldable prongs. Both are also available in a "pro" version for a little extra cash ($49.99), which offer two USB ports and detachable Lightning/microUSB cables.
Finally, there's the strikeLINE pro ($29.99), a retractable USB cable with an interchangeable Lightning/microUSB cable, that's perfect for slipping into a bag while traveling.
Scosche hasn't yet announced release dates for these accessories – or U.K. pricing – but it promises that "some of them should ship prior to CES," which is held in early January. Unfortunately, that means it's unlikely that'll be here in time for Christmas.