Belkin announces first accessories for Apple's Lightning connector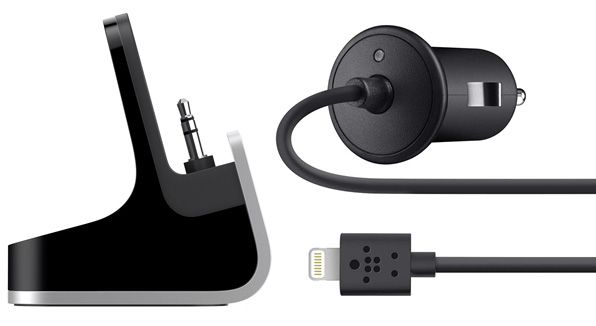 Apple's new Lightning connector, which was unveiled with the iPhone 5 back in September, now has its first official accessories. Belkin today announced a car charger and a dock, which it says are the first of several new Lightning compatible products that the company will be launching this year.
From a press release issued by the company:
"Belkin was the first third party manufacturer to develop accessories for the 30-pin connector back in 2003, and we are thrilled to be first to market again with solutions for the new Lightning connector," said Martin Avila, general manager of Belkin's core division. "People are eager for Lightning accessories and Belkin's give them a reliable way to keep their new iPhone 5, iPad 4th generation, iPad mini or iPod touch charged, protected, and ready to go."
The Belkin Car Charger for Lightning allows you to charge an iPhone 5, iPad mini, iPad 4th gen, iPod touch 5th gen, or iPod nano 7th gen via your car's cigarette lighter. It features a hardwired 1.2m Lightning cable which delivers 10 watt/2.1 amp of power, and is priced at £24.99 ($29.99).
Designed for use on a desk, the Belkin Charge + Sync Dock holds an iPhone 5 upright for charging and syncing with your Mac or PC. It features both a foldable AUX jack, and an AUX port for headphones or speakers, and is also priced at £24.99 ($29.99). You will need to provide your own Lightning cable though.
Belkin's first Lightning accessories will be available to pre-order from the 7th of November here in the UK, and from today in the US.
They will go on sale mid-November.