Apple publishes 2012 Christmas Gift Guide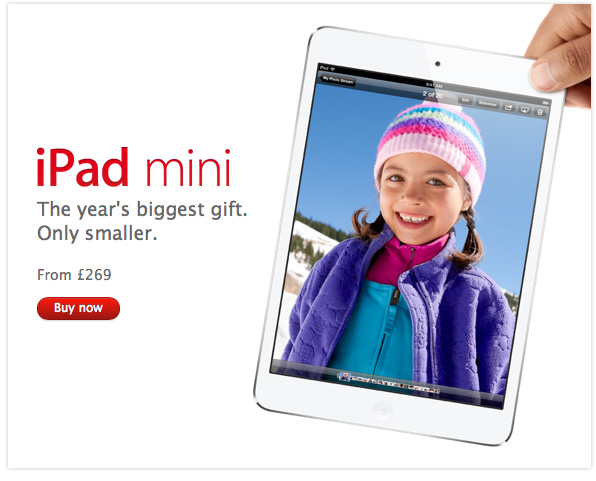 Apple has published its 2012 Christmas Gift Guide to the Apple online store, helping shoppers pick out the perfect gift for their tech-savvy loved ones. As you'd expect, the guide focuses on the Cupertino company's latest gadgets – including the iPad mini, iPhone 5, and iPod touch – and the best accessories to accompany them.
Apple's headline product this year appears to be the iPad mini; it's the device you see first upon entering the gift guide, and Apple insists it's "This year's biggest gift. Only smaller." And it's hardly surprising Apple's giving it a big push – it's likely to be a massive hit this holiday season.
Alongside the iPad mini, Apple has picked out a selection of accessories, including the Smart Cover, a wireless HP printer, two wireless controllers from Discovery Bay, and the awesome Parrot AR.Drone 2.0. Also part of the guide is the new, fourth-generation iPad.
The MacBook Air headlines the Mac section, alongside accessories like the Magic Mouse, a Line 6 keyboard controller, Beats headphones, and several Bowers & Wilkins wireless sound systems.
Apple's also pushing its new iPod lineup in the guide, with a focus on the super thin iPod touch. iPod accessories include plenty of headphones – including a selection from Beats, Bowers & Wilkins, and Parrot; the Nike+ FuelBand; and the Scosche Rhythm Pulse Monitor.
As for the iPhone, that's also accompanied by headphones and sound systems, in addition to an awesome wireless baby monitor, some Wi-Fi scales, several cases, and the Adidas miCoach heart rate monitor, which is exclusive to the Apple store.
You can check out the full guide via Apple's online store. UK readers can find it on this page, while those in the U.S. can visit this page. If you're stuck for gift ideas, it has some great suggestions.
Is there anything in Apple's Gift Guide that you'd like to see under your tree this Christmas?