Matrox announces the DS1 Thunderbolt Docking Station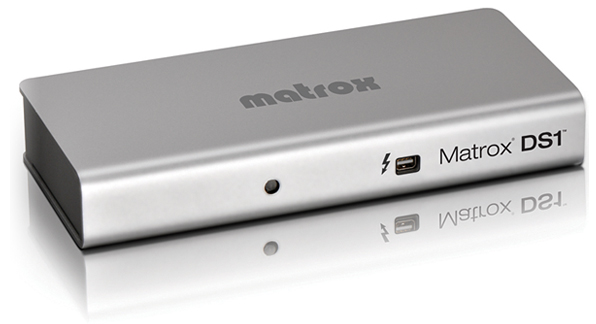 Matrox has today announced the Matrox DS1, a Thunderbolt dock aimed at MacBook Pro, MacBook Air, and Ultrabook owners. Priced at $249 (£169), the DS1 is a cheaper alternative to Belkin's $299 (around £200) Thunderbolt Express Dock, but lacks a couple of features that could be deal breakers for some potential customers.
The Matrox DS1 has two USB 2.0 ports, one high-speed USB 3.0 port, a full-sized DVI connector, microphone input, speaker/headphone output, and a single Thunderbolt port which is used to connect the dock to your laptop.

As the DS1 only has the one Thunderbolt port, you won't be able to daisy-chain additional Thunderbolt devices, and it also lacks a FireWire 800 port. Both of those capabilities are available with Belkin's Thunderbolt Express Dock, which despite the absence of USB 3.0, DVI or audio input/output ports, looks to be a more attractive option.
Both the Matrox DS1 Thunderbolt Docking Station, and the Belkin Thunderbolt Express Dock, will be available to purchase in September.
Update: Belkin has now announced changes to the spec and price of their Thunderbolt dock.
[Via: The Verge]