Alleged spec sheet for new 13-inch MacBook Pro surfaces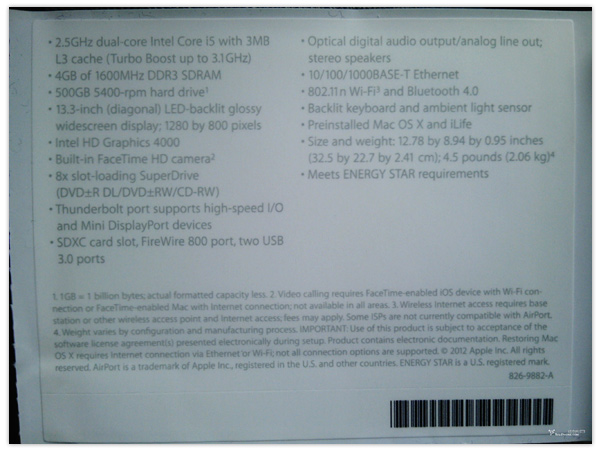 The photo above, which was posted on Chinese site Weiphone, appears to show the spec sheet of an upcoming 13-inch MacBook Pro. If genuine, it reveals the new model will have a 2.5GHz dual-core Intel Core i5 processor, Intel HD Graphics 4000 GPU, Bluetooth 4.0, and two USB 3.0 ports – suggesting this is an Ivy Bridge based MacBook Pro.
The rest of the specifications match the current 13-inch MacBook Pro. It has the same 1280×800 resolution screen – so no retina display, and as the dimensions remain unchanged, it won't have a new design either.
With previous rumors pointing to a thinner form factor and higher resolution screens for Apple's MacBook Pro line, these leaked specs are bound to leave some disappointed.
There is still the chance that the biggest upgrades have been saved for the 15-inch MacBook Pro though, and these particular specifications could even be for a base-configuration model.
With Apple rumored to be unveiling new Mac hardware at next Monday's WWDC Keynote in San Francisco, we hopefully shouldn't have much longer to find out.
While it should be pointed out that it would be very easy to fake something like this, it wouldn't be the first time that new hardware has been leaked in this manner.
[Via: The Verge]