Martin Scorsese stars in new iPhone 4S TV advert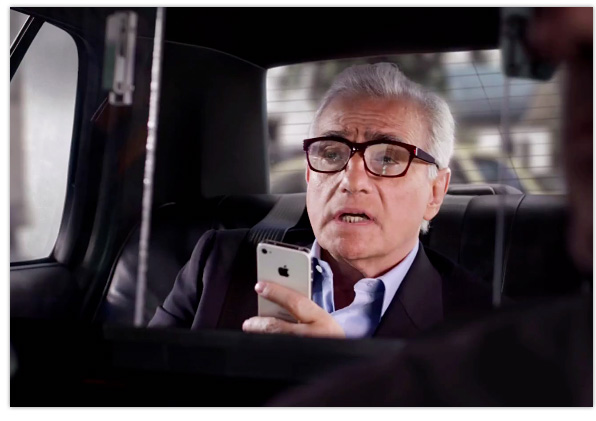 Apple's latest iPhone 4S TV advert features Oscar-winning movie director Martin Scorsese, who is shown using Siri whilst riding in the back of a taxi. In the ad, which is titled "Busy Day", Scorsese uses the personal assistant to reschedule appointments, check the location of a friend, and to see how the traffic is looking downtown.
Transcript:
Scorsese: Siri, what's my day look like?

Siri: Another busy day today.

Scorsese: Are you serious?

Siri: Yes, I'm not allowed to be frivolous.

Scorsese: Ah, okay, move my four o'clock today to tomorrow, change my 11am to 2.

Siri: OK Marty, I scheduled it for today.

Scorsese: Is that Rick? Where's Rick?

Siri: Here's Rick.

Scorsese: Oh no, it's not Rick. Now, how's the traffic headed downtown?

Siri: Here's the traffic.

Scorsese: Oh, it's terrible, terrible. Driver, driver, cut across, cut across. We'll never make it downtown this way. I like you Siri, you're going places.

Siri: I'll try to remember that.
By appearing in this latest advert, Scorsese follows in the footsteps of fellow celebrities Zooey Deschanel, Samuel L. Jackson, and John Malkovich, who have all been used to promote the iPhone 4S and Siri.