Google releases native YouTube app for iPhone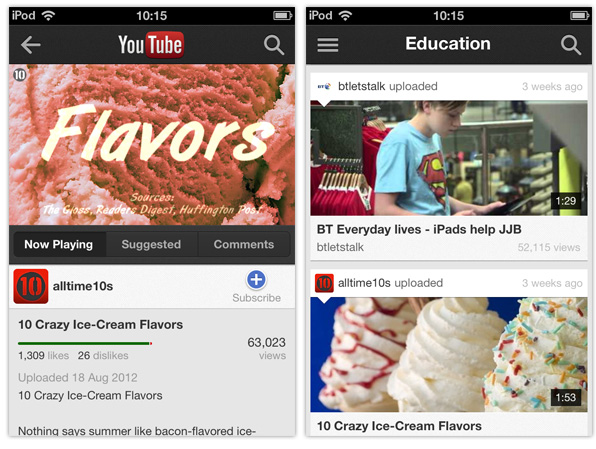 Last month it was revealed that iOS 6 will be the first version of Apple's mobile OS not to include a dedicated YouTube app, and that Google was working on a standalone version. With Apple expected to announce a release date for iOS 6 at tomorrow's media event, Google has now released an iPhone version of the app.
Announced on the YouTube blog, here are some of the app's features:
Tens of thousands more videos: Watch official music videos like Taylor's latest hit.
New YouTube channel guide: Swipe your finger from the left edge of the screen to reveal a guide with your subscribed channels on YouTube, giving you instant access to everything from Alli Sports to YOMYOMF.
Find awesome videos faster: Get to videos like "Gangnam Style" faster with new search tools that give suggestions while you type, and let you sort through videos or channels. Flip through related videos, comments and more info, all while watching a video.
More ways to share with the people you love: Share that incredible video you found on YouTube on Google+, Facebook or text message in the app, as well as from Twitter and email.
Unlike the YouTube app currently pre-installed with iOS, the new standalone version has support for pre-roll advertising – which is the reason why Google will be able to include "tens of thousands" more videos.
A version of the app optimised for the iPad is expected in the coming months.
YouTube for iPhone is a free download from the App Store.
[Via: MacRumors]