Apple announces the iPhone 5 with taller 4-inch screen, A6 CPU, and 4G LTE capabilities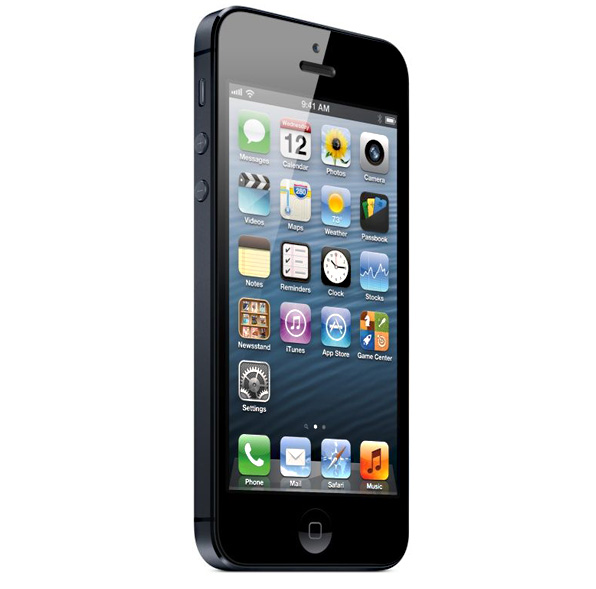 The wait is finally over. Following months of rumours and speculation, Apple today unveiled the company's sixth-generation iPhone, which as many people predicted, is called the iPhone 5. In addition to a taller screen, the new device boasts Apple's latest A6 processor, 4G LTE capabilities, and a whole lot more.
Constructed from glass and aluminum the iPhone 5 is 18% thinner, and 20% lighter than the iPhone 4S. Its screen measures 4-inches, and offers a resolution of 1136×640 pixels, and an aspect ratio of 16:9. Thanks to touch sensors being integrated directly into the display itself, it's also more accurate.
Apple has already optimised its Keynote, Pages, Numbers, iPhoto, iMovie, and GarageBand apps for the taller display. Non-optimised apps will run at the same size, but centred with black borders on either side. The increased height will allow an extra row of apps to be displayed on its home screen.
The device is powered by Apple's A6 processor, which offers twice the performance of the iPhone 4S's A5. To demonstrate exactly what the new chip is capable of, Rob Murray from EA was brought on stage to show off the upcoming Real Racing 3.
Despite the faster CPU and bigger screen, the iPhone 5's battery life actually exceeds that of its predecessor, with up to 8 hours talk time promised on 3G, and up to 225 hours of standby time.
The camera on the iPhone 5 has been completely redesigned. It's 25 percent smaller than the one in the iPhone 4S, and features a lens cover constructed from sapphire crystal – which offers greater durability and clarity. Like the iPhone 4S, it has an 8 megapixel sensor which can take 3264 x 2448 resolution images. There's also a new camera mode for panoramic shots.
In terms of wireless connectivity, the iPhone 5 has HSPA+, DC-HSDPA, and most notably – 4G LTE, which will be compatible with major US networks, plus others in Europe and around the world. The device's Wi-Fi has also been boosted with dual-channel 802.11(n) capabilities.
Finally, the iPhone 5 has a new smaller connector called 'Lightning' – so Apple now has products called both Thunderbolt and Lightning! The new connector promises greater durability, and is reversible – so you don't have to worry about plugging cables in the wrong way round. A Lightning-to-30-pin Adapter will be available for older 30-pin accessories.
The iPhone 5 will launch on Friday, the 21st of September in the US, UK, Australia, Canada, France, Germany, Japan, Hong Kong, and Singapore with pre-orders starting this Friday, the 14th of September. The iPhone 5 comes in white & silver or black & slate, and is available in three different storage capacities: 16GB ($199), 32GB ($299), and 64GB ($399).
In addition, the device will roll out to 22 more countries on the 28th of September, including Austria, Belgium, Czech Republic, Denmark, Estonia, Finland, Hungary, Ireland, Italy, Liechtenstein, Lithuania, Luxembourg, Netherlands, New Zealand, Norway, Poland, Portugal, Slovakia, Slovenia, Spain, Sweden and Switzerland.