John Browett admits he just didn't fit at Apple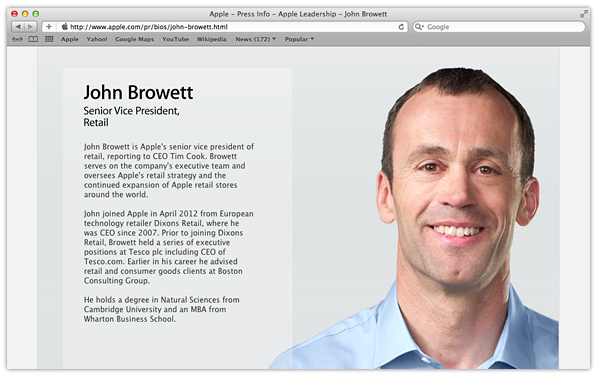 Apple's former senior vice president of retail John Browett, who was ousted after just six months in the job, has been speaking about his time with the company. In an interview at the Retail Week Live conference, he revealed that he loved working at Apple, but "didn't fit within the way they run the business".
"Apple is a truly fantastic business. The people are great, they've got great products, it's got a great culture, and I loved working there — it's a fantastic business. The issue there was that I just didn't fit within the way they run the business. So for me it was one of those shocking things where you're rejected for fit rather than competency."
Browett, who is now the chief executive of Monsoon Accessorize, joined the Cupertino company in January 2012 following a five year stint as the boss of Dixons Retail. His departure from Apple was announced in a company shake-up which also saw former iOS chief Scott Forstall ousted.
During his employment at Apple, Browett was reported to have angered the company's retail store employees by reducing staff numbers and cutting working hours.
Apple hasn't named a successor to Browett yet.
[Via: The Independent]