Apple says goodbye to Steve Jobs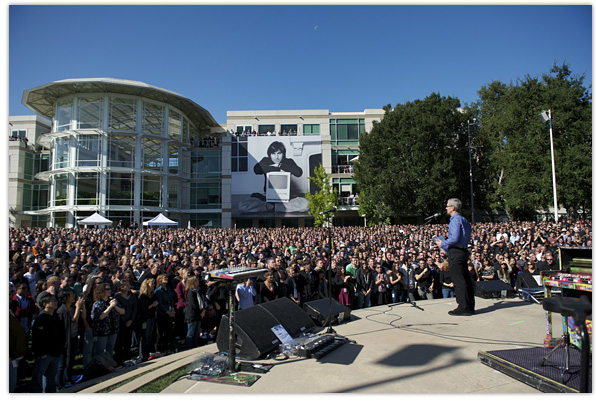 Apple's co-founder sadly passed away on October 5, the day after his company unveiled the new iPhone 4S, and yesterday, his colleagues said their last goodbyes with a memorial at its Cupertino headquarters.
The memorial saw speeches from Bill Campbell, a board director at Apple; Tim Cook, Apple's new CEO; and performances from Coldplay and Norah Jones, who played 'Forever Young'. Thousands of Apple employees attended the event, which was also live-streamed to employees based in Apple retail stores across the U.S.
Apple published a photograph of Tim Cook addressing employees shortly after the event (above), and CNET also released some aerial footage from above the Apple campus in Cupertino. As you can see from the video below, the event was packed with Apple employees, while images of Steve were hung from the side of the building.
Today, two weeks on from Steve's passing, Apple has updated its website to take down its tribute page, but has started a new 'Remembering Steve' page which is filled with messages from fans all over the world, and invites people to submit their own memories, thoughts, and feelings.
It still doesn't seem right that Steve is no longer around, but the tributes we've seen and the stories we've heard over the past two weeks are a magnificent testament to a man who truly changed the world, and touched more people's lives than most could ever dream of.