iWork syncing is a breeze with iCloud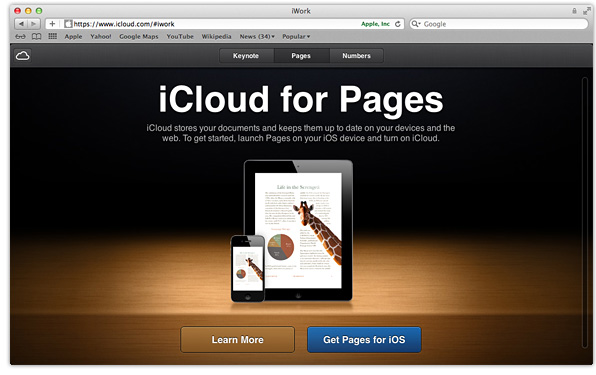 If you haven't already set up your own iCloud account, then I recommend you do it as soon as you can – especially if you're not a MobileMe subscriber. It's an awesome service that allows you to sync a whole host of personal data between your Mac and iOS devices, such as contacts, calendars, photographs, and documents.
The service has taken over from MobileMe, but a couple of old features were dropped in the transition, one of which was iDisk. I used iDisk a lot to save documents that I was working so that I could access them at any time from any of my devices. But with the introduction of Documents in the Cloud with iCloud, you don't need iDisk if you use iWork.
Using Apple's iWork productivity suite with iCloud allows you to sync iWork documents between all of your devices – just like you could with iDisk. When you create a document on your iPad, it automatically appears on your iPhone and on the iCloud website on your Mac; and when you update that document on your iPhone, the changes are pushed to iCloud on your Mac and to your iPhone. You get the idea.
It sounds great, but it's even greater when you see it in action. The guys over at iDownloadBlog have put together this walkthrough video that shows how easy it is to sync iWork documents with Documents in the Cloud:
Have you had chance to use Documents in the Cloud yet? If so, what do you think of it?