Sapphire launches Radeon HD 7950 for Mac Pro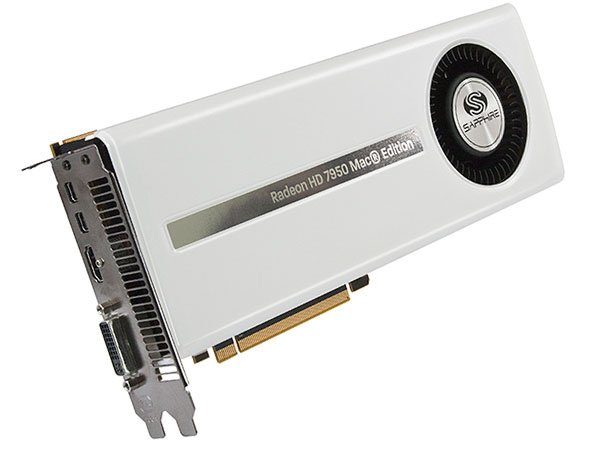 It may no longer be available to purchase in Europe any more, and by all accounts a new model is planned for later this year, but that hasn't stopped Sapphire Technology launching a version of the Radeon HD 7950 graphics card for Apple's Mac Pro.
The Radeon HD 7950 Mac Edition is based on AMD's latest Graphics Core Next (GCN) architecture, which the Hong Kong-based company says offers a significant performance boost for users:
This highly acclaimed architecture delivers a significant graphics performance boost for Mac Pro users in a wide range of applications including gaming, audio or video editing and content creation. For example, gaming frame rates are increased by over 200%, general benchmark performance increased by around 30% and graphics intensive benchmarks increased by as much as 300% compared with the NV 8800GT commonly used in these machines (SAPPHIRE internal data).
The card boasts 3GB of GDDR5 memory, and features support for Open GL 4.2 and Open CL 1.2, plus AMD HD3D technology and APP acceleration. In terms of connectors, it has two mini display ports and one HDMI port, which are capable of outputting a maximum resolution of 3840×2160.
The Radeon HD 7950 Mac Edition is compatible with all Mac Pro models released in 2010 and later, with an empty PCI-Express x16 slot. Drivers for OS X Lion and Mountain Lion are provided.
If you fancy picking one up for your Mac Pro expect to pay $479 (approx. £317).