Apple releases iOS 6.1.2 to fix Microsoft Exchange bug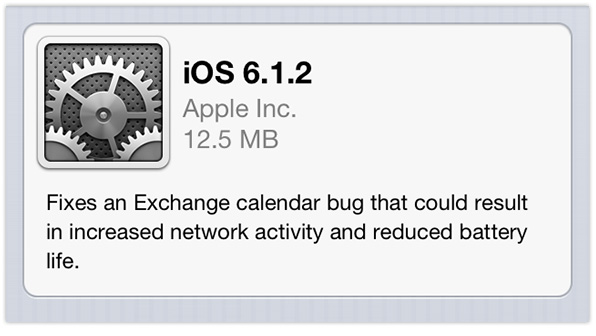 Apple has today released iOS 6.1.2 for the iPhone, iPad and iPod touch. According to its release notes, the update fixes a Microsoft Exchange calendar bug that could result in increased network activity and reduced battery life on devices running iOS 6.1.
Last week, Apple published a support document which acknowledged the issue, and contained steps for users to perform a temporary fix until today's update was made available. That same support document has now been revised inline with today's release and simply advises users to update to iOS 6.1.2.
What isn't clear yet, is whether or not this latest iOS update update fixes a security flaw in iOS 6.1 which allows users to bypass a passcode lock on an iPhone, and gain access to the phone app, view contacts, check voicemail and look at photos.
You should be able to download iOS 6.1.2 over the air by going to Settings > General > Software Update on your device.