Apple adds its new Senior Vice President of Retail, John Browett, to its executive bios page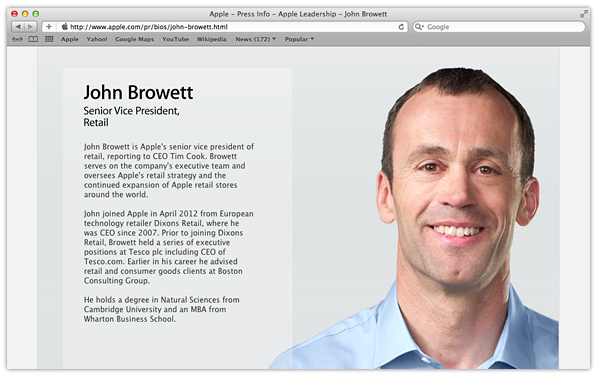 Apple's new Senior Vice President of Retail, John Browett, has now been added to the executive bios page of the company's website after his appointment was announced back in January. Browett began his role at Apple last month after leaving Dixons Retail here in the U.K., where he was CEO since 2007.
Browett takes over from Ron Johnson, who left Apple in November 2011 to become CEO of U.S. retailer J.C. Penney. Johnson is considered to be the pioneer of Apple's world-famous retail stores, and he was part of the Cupertino company's executive team alongside Steve Jobs for just under 12 years.
There's no doubt Browett has a lot to live up to, then, but according to his bio, he's certainly up to the task:
John Browett is Apple's senior vice president of retail, reporting to CEO Tim Cook. Browett serves on the company's executive team and oversees Apple's retail strategy and the continued expansion of Apple retail stores around the world.

John joined Apple in April 2012 from European technology retailer Dixons Retail, where he was CEO since 2007. Prior to joining Dixons Retail, Browett held a series of executive positions at Tesco plc including CEO of Tesco.com. Earlier in his career he advised retail and consumer goods clients at Boston Consulting Group.

He holds a degree in Natural Sciences from Cambridge University and an MBA from Wharton Business School.
Those familiar with Dixons Group stores in the U.K. — PC World, Currys, and Dixons — raised concerns over Browett's appointment shortly after it was made public earlier this year, and questioned whether he was the right man to take over Apple's retail arm. However, Apple CEO Tim Cook has given Browett his full support, revealing that he "talked to many people" about the role, and that "John [Browett] was the best by far."
[via 9to5Mac]