Analyst claims Apple's HDTV is already in production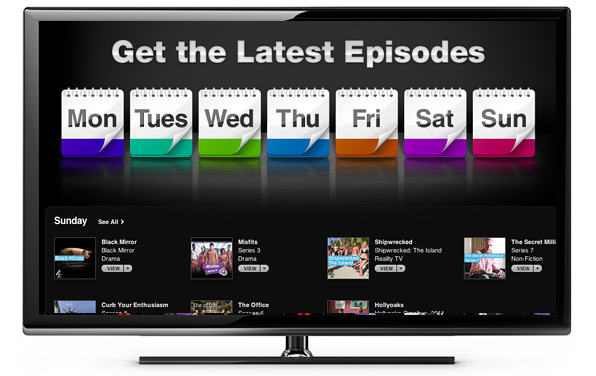 With reports and speculation largely focused on the upcoming iPhone 5 this summer, talk of the much-anticipated Apple HDTV has somewhat avoided the limelight for several weeks. But thanks to analysts, it just got going again. Jefferies claims that the set is now in full production, and that it's scheduled for an early 2013 release.
The report comes via Twitter user "Sammy the Walrus IV," who is a self-proclaimed "engineering and finance cynic navigating Silicon Valley and Wall Street." It's worth noting that the original is still yet to be published by Jefferies, so you probably don't want to place all bets on this information just yet.
What Sammy conveys is that Apple HDTV production is now in full flow, and that Apple will partner up with AT&T and Verizon in the United States to offer content. Jefferies expects the set to begin shipping in early 2013 with a selling price around $1,250 (£796).
They also predict there will be two ways to access content: either with a subscription from AT&T or Verizon, or using an additional set-top box from Comcast. Unfortunately for us Brits, there's no indication how it will work internationally. But if the existing Apple TV is anything to go by, we should expect a lot fewer options than those the other side of the Atlantic.
CultofMac notes that Jefferies has reported a lot of information on the Apple HDTV, predicting earlier this year that it would be labeled the "iPanel," and that Apple would build five million of them by the end of 2012. But for some time, reports died down, and the set was only mentioned very occasionally.
But as we head closer to the final quarter of 2012, they're starting to pick up again. In addition to this report from Jefferies, the Wall Street Journal has delivered new information on the set this week, with their sources claiming Apple is currently in talks with cable providers over live TV deals. However, they claimed these deals would launch on a set-top box before making their way into a dedicated television from Apple.
It certainly seems as though the Apple HDTV is still in the pipeline, but unlike the iPhone 5 – and even the iPad mini – its specifics are still very much a mystery. As is always the case with these things, we'd expect most of the information to surface just months or even weeks before the device goes on sale.