White iPad mini sells out within 20 minutes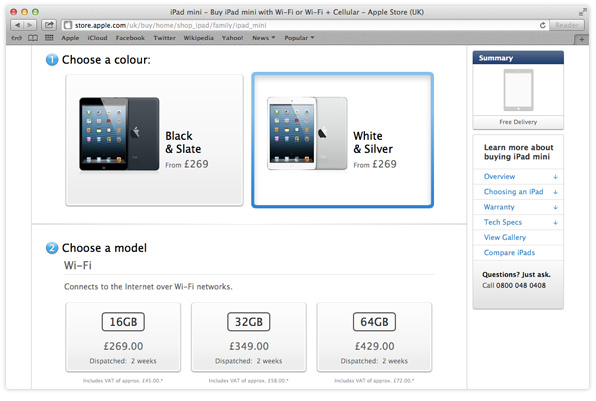 Apple started taking pre-orders for the iPad mini today, but after less than 20 minutes, estimated shipping times for the white model slipped to two weeks in the US, and apparently it was a similar situation here in the UK.
However, customers in the US can still order the black iPad mini and have it delivered on its 2nd of November launch day. The same can't be said for UK customers though – like the white model, it now has a shipping time of two weeks.
Although demand for the white 7.9-inch iPad has obviously been strong, the fact that the black version is still shipping on time in the US suggests that supplies may have been severely constrained – especially outside of the US.
As revealed at the iPad mini announcement on Tuesday, Customers pre-ordering the Wi-Fi + Celluar versions of the iPad mini won't receive their devices until late November.
Apple retail stores in the US, UK and other countries, will of course have stock of both the black, and white, Wi-Fi only iPad mini held back for next Friday's launch day.