Amazon bashes the iPad mini in Kindle Fire HD advert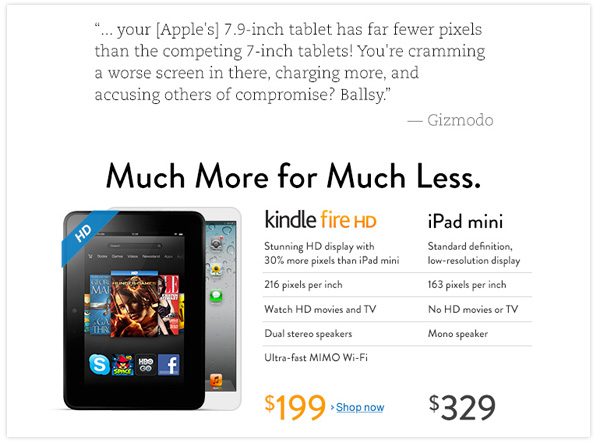 Amazon has a new advert for the Kindle Fire HD up on Amazon.com, and it takes aim at Apple's new iPad mini. As you might expect, it's the tablet's price tag that Amazon has chosen to bash, but it's also quick to point out that the iPad mini has a "low-resolution display," and "no HD movies or TV."
The ad also notes the iPad mini's mono speaker, while boasting about the Kindle Fire HD's stereo speakers, its "stunning HD display" which offers 30% more pixels than the iPad mini's does, and its "ultra-fast MIMO Wi-Fi" connectivity. Like a lot of these ads, however, Amazon chooses to ignore all of the iPad mini's advantages.
For example, it has a 35% larger display, there's an LTE option, it has a front- and rear-facing cameras (the Kindle Fire HD only has front), and it's made of aluminum (not plastic). Then there's the software, of course. Apple's device runs iOS 6, which means it has access to more than 275,000 apps designed for a tablet, and more movies, TV shows, and music than you can shake a stick at.
Then there are all the advantages you get with buying an Apple device, such as Genius Bar support, and impeccable software support. I'm not saying the Kindle Fire HD's a bad device, but if Amazon insists on comparing it with the iPad mini, it should take everything into account. I know I'd pay an extra $129 (£81) for iOS alone, let alone the iPad mini's build quality.
In fact, I much prefer iMore's comparison chart — it's far less deceptive. What do you think?