Visible Green USB cables from Dexim visualize your charging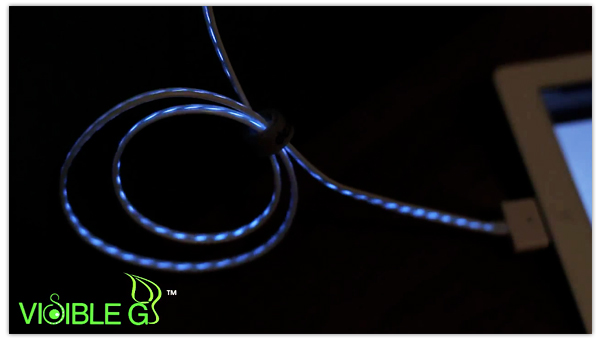 Apple puts a lot of effort into making its products look good, right down to the USB cables we use to charge and sync our iOS devices. But those boring cables are the last things we take any interest in when we unbox a new iOS device. However, Dexim's new Visible Green USB cables are a lot different.
These things are actually a lot of fun to watch, because they use flexible lighting to visualize the electrical current traveling along the cable as it's charging your device. The speed of the current depends on your device's battery level: A fast current represents a battery level below 65%, while a slower current represents a battery level over 65%. When the light disappears, it means your device is fully charged.
Priced at just $19.90 (approx. £12.56), the Visible Green cable is just $0.90 more than Apple's own USB cables, and you can choose from four different colors; including light blue, dark blue, green, and purple. You simply pair the cable with the plug Apple provides with your iOS device.
But the Visible Green's best features are its energy saving attributes. The cable uses low electroluminescent light which, Dexim claims, lowers power consumption and saves energy. It automatically shuts off once your device is fully charged, meaning you don't waste energy unnecessarily. Here's a video of the cable in action:
If you don't have the plug Apple provides with iOS devices, Dexim also offers Visible Green chargers, which are also compatible with all iOS devices, and iPods. Prices start at $34.90 (approx. £22) for the Green Charger, and rise to $39.99 (approx. £25.23) for the Smart Charger. You can check them out on Dexim's website.
The only downside I can see to Dexim's Visible Green products is that they're not going to be ideal for those who charge their devices at night, next to their bed. The last thing you want while you're trying to nod off are colorful lights whizzing by your face. But other than that, I think they're great.
What do you think of Dexim's Visible Green products?