Apple release Mac OS X 10.7.3 and Safari 5.1.3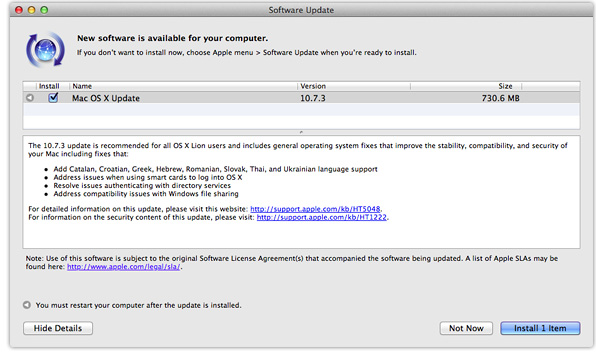 Apple have today released Mac OS X 10.7.3 – the third public update to Lion since its arrival back in July 2011. The update, which includes Safari 5.1.3, support for several new languages and a number of bug fixes, is available via Software Update or as a manual install from Apple's website.
"The OS X Lion v10.7.3 Update includes Safari 5.1.3 and fixes that:

Add Catalan, Croatian, Greek, Hebrew, Romanian, Slovak, Thai, and Ukrainian language support
Address issues when using smart cards to log into OS X
Address compatibility issues with Microsoft Windows file sharing
Address an issue printing Microsoft Word documents that use markup
Address a graphics performance issue after sleep on some earlier iMacs that use ATI graphics
Resolve a Wi-Fi connection issue when waking from sleep
Address an issue that may prevent Safari from opening before joining a wireless network
Fix a potential issue authenticating to an SMB DFS share
Include RAW image compatibility for additional digital cameras"
As with all OS updates, Apple advises backing up your system before running the installation.
Let us know if you run into any issues with this update.