Virgin America jet named in tribute to Steve Jobs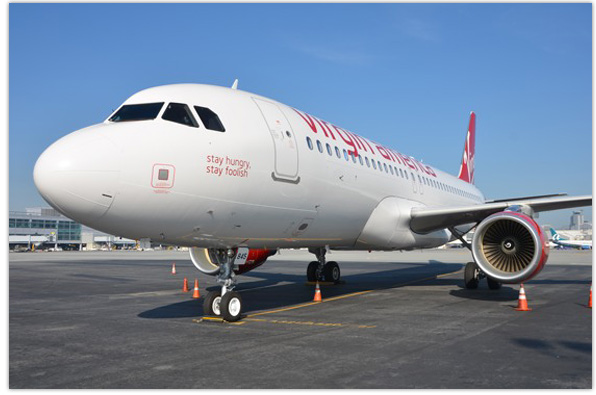 In a tribute to Steve Jobs, this Virgin America Airbus A320 features the words "Stay Hungry, Stay Foolish" on its side. The quote was famously used by the Apple co-founder in a commencement address he delivered to graduating students of Standford University, back in 2005.
A Virgin America spokesperson told CNET that "Stay Hungry, Stay Foolish" was submitted by an employee as a tribute to Steve Jobs, for an internal plane naming competition.
Jobs used the quote, which appeared in a 1970's publication called 'The Whole Earth Catalog', at the end of the commencement address:
"On the back cover of their final issue was a photograph of an early morning country road, the kind you might find yourself hitchhiking on if you were so adventurous. Beneath it were the words: "Stay Hungry. Stay Foolish." It was their farewell message as they signed off. Stay Hungry. Stay Foolish. And I have always wished that for myself. And now, as you graduate to begin anew, I wish that for you.

Stay Hungry. Stay Foolish."
While the name might not have been chosen by the Virgin boss – Sir Richard Branson, it seems likely that he would approve – in March 2011 he revealed on his personal blog that Steve Jobs was the entrepreneur that he most admired.
And perhaps the admiration was mutual? A clip of Branson was used in Apple's 1997 "Think Different" commercial, alongside those of other iconic personalities such as Albert Einstein, Pablo Picasso and Bob Dylan.
[Photo courtesy of Virgin America]