Impressive eBook gesture concept shown off on iPad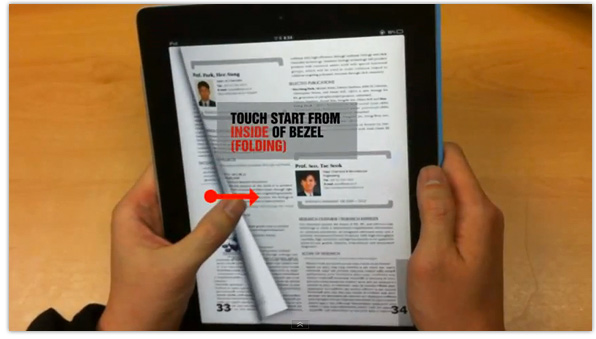 The animation you see when turning a page within the iBooks application for iOS is rather impressive when you first see it, but then the novelty wears off and you realize that this is really the only gesture iBooks has; flipping back and forth between pages. The KAIST Institute of Information Technology Convergence has realized that's just not enough for some readers, so it has designed this terrific eBook gesture concept.
As you can see from the video above, the concept features some really useful gestures that would make navigating eBooks on a touchscreen device a much more enjoyable experience. You can flick through a book by spreading its pages, and then flipping through them; you can speed through pages by placing your finger on the side of the book, then allowing them to flick past; you can turn multiple pages using faster swipes; and you can even write a page number to skip straight to where you want to be.
If you're a heavy iBooks user, I think you'll agree this concept would work wonders on the iPad. But it's unlikely you'll see it on an Apple device. While the prototype seen above is indeed running on an iPad, it uses private APIs that would prevent it from being approved for the App Store. The only way we're likely to see gestures like this, then, is if Apple's introduces them itself.
But it's quite likely you'll see the concept — or something similar — ported to Android after this video goes viral.
While some of the gestures featured in the concept may not suit all readers, it seems that with numerous ways of navigating between pages there will be something for everyone. It would be fantastic to see similar gestures introduces to iBooks, along with the option to enable/disable each one for those who prefer to keep things simple.
What do you think of this concept? Would you like to see some of these gestures within iBooks, or do you think they're too cumbersome?
[Via MacRumors]