Troubleshooting – apps missing from your iOS device?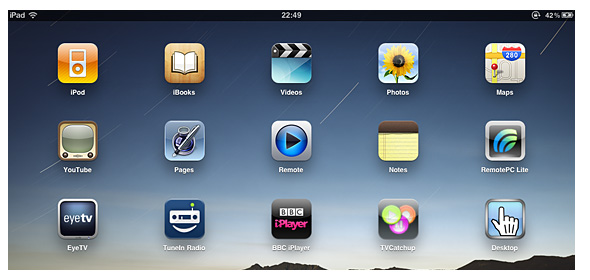 You're not supposed to be able to delete any of the preinstalled apps from an iOS device, but that doesn't mean they can't go missing every now and then. Sometimes it might be the result of an update that went wrong, or maybe something was disabled by mistake. However it happened, if one day you can't find Mail, FaceTime, Safari, Maps, Notes, Camera, iTunes etc on your iPhone, iPod Touch or iPad then continue reading.
Search for it
Is the app definitely gone? Run a search for it by swiping right with your finger from the main home screen. If it comes up in the search results you might want to double check all of you home screens again, and remember to look inside folders.
Reset home screen
Go to Settings > General > Reset and select Reset Home Screen Layout. You shouldn't lose anything when you do this but please note you may have to rearrange your apps/folders.
Is it disabled?
Make sure you haven't disabled the App – Go to Settings > General > Restrictions and enter your passcode. On the next screen it will show whether or not any of the apps have been disabled.
Restart the device
Turn the device off and on again – press and hold the sleep/wake button for a few seconds, and then slide you finger on the slide to power off message. If you can't turn it off try holding down the sleep/wake and home buttons together until an Apple logo appears.
Restore from backup
Connect the device to your computer, control-click or right-click on either your iPhone, iPod or iPad under the Devices menu in iTunes and select Restore from Backup. Hopefully you backed up the device recently otherwise you may have to restore from a backup that doesn't have all of your device purchased apps.
Restore to original settings
If all of the above fail then the last resort will be to restore the device to it's original settings. You will probably want to make sure you have a backup of everything on the device before you take this step though as it will delete everything!
Once you have backed everything up select your iPhone, iPod or iPad under the Devices menu in iTunes and make sure you are looking at the Summary screen by checking the tabs towards the top of the iTunes window, and then click on Restore.
None of the above worked?
Are you sure your device came with the app preinstalled? Bear in mind that preinstalled apps do vary slightly between the different iOS devices. For example, while the iPod Touch & iPad have dedicated Video Apps the iPhone doesn't – it just has an iPod App. Also remember that some Apple Apps, such as iBooks & Remote won't have come preinstalled – you will have to download them again from the App Store.
If this troubleshooting guide helped you please share it.