Top all-time paid and free apps revealed by Apple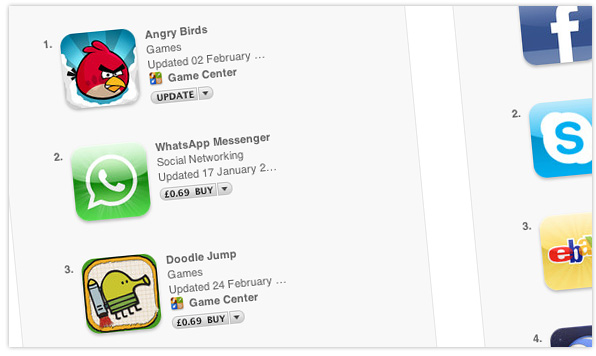 Following the announcement that over 25 billion apps have been downloaded from the App Store, and that Chunli Fu of Qingdao, China picked up a $10,000 gift card for downloading the 25 billionth, Apple has published lists of the top all-time paid and free iOS apps.
Rather than listing all 100 of the top iPhone and iPad apps in this post, here are the top 5 from each category:
Top 5 Paid iPhone Apps
1. Angry Birds
2. Fruit Ninja
3. Doodle Jump
4. Cut The Rope
5. Angry Birds Seasons
Top 5 Free iPhone Apps
1. Facebook
2. Pandora Radio
3. Words With Friends Free
4. Skype
5. The Weather Channel
Top 5 Paid iPad Apps
1. Pages
2. Angry Birds HD
3. Angry Birds Seasons HD
4. Penultimate
5. Scrabble for iPad

Top 5 Free iPad Apps
1. Angry Birds HD Free
2. The Weather Channel for iPad
3. Netflix
4. Skype for iPad
5. Kindle

You can view complete lists on this page of the App Store.