Tim Cook visits new Foxconn iPhone production facility in China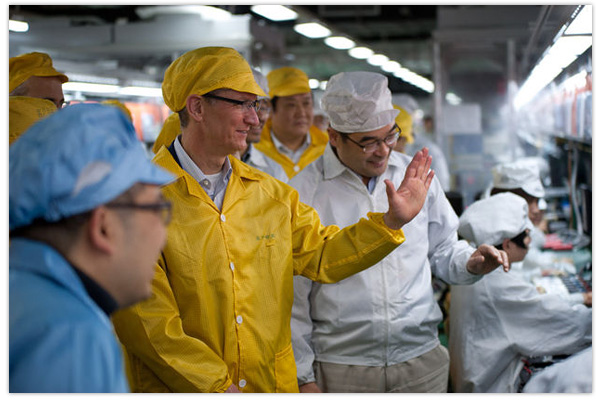 Apple CEO Tim Cook has spent the past week in China, where he has met with the country's Vice Premier – Li Keqiang, the mayor of Beijing – Guo Jinlong, and paid a visit to the company's Retail Store in Xidan Joy City. His latest visit, pictured above, saw him tour Foxconn's new production facility for the iPhone in Zhengzhou.
Apple spokesperson Carolyn Wu, confirmed Cook's visit to the facility in an email provided to Bloomberg:
"The iPhone production line is at the new Foxconn Zhengzhou Technology Park, which employs 120,000 people, Carolyn Wu, a Beijing-based Apple spokeswoman, said in an e-mail today. She didn't provide other details on Cook's visit or say how much longer he'll be in China after having held high-level talks in Beijing earlier this week."
Apple has, in recent months, faced scrutiny from the world's media regarding the alleged mistreatment of workers within its Foxconn-operated facilities. Unsurprisingly, the company has been keen to address those allegations.
This latest Foxconn visit by Cook follows Apple allowing ABC to tour one of the factories with their cameras, and by Cook himself sending a lengthy email to all the company's employees, in which he stated: "We care about every worker in our worldwide supply chain".