Tim Cook takes the top spot in Glassdoor's highest rated CEO survey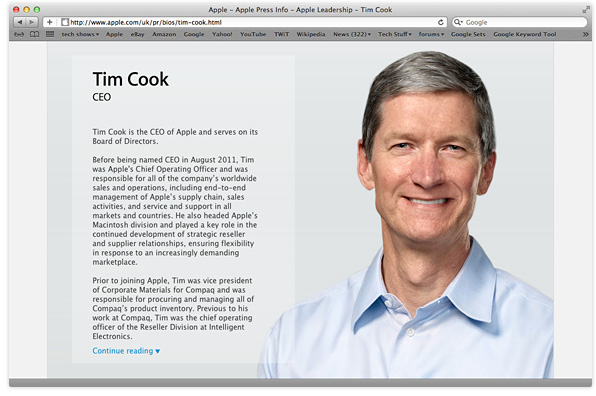 Tim Cook officially took over as Apple's CEO when Steve Jobs stepped down to become chairman of the board back in August 2010. Ten months on, Cook is already the world's highest-rated CEO, surpassing his predecessor's approval rating by 2% in this year's Glassdoor survey.
Glassdoor's ratings come from more than 280,000 anonymous company employees who are all asked one simple question: "Do you approve of the way your CEO is leading the company." 97% of Apple employees gave a resounding "yes," while one told Glassdoor:
"I think leadership is doing an amazing job. We have the best management team anywhere."
In comparison, that's just above the 95% rating received by Steve Jobs between March 2010 and March 2011. However, Steve's cumulative rating matched Cook's at 97%.
Jim Turley, CEO of Ernst & Young came in second place, and Paul E. Jacobs of Qualcomm came in third – both with a rating of 95%. Ken Chenault from American Express came in fourth with 94%, and Google's Larry Page matched that in fifth.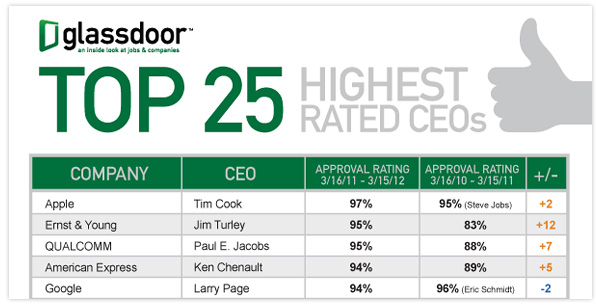 When Cook took over Apple last year, many speculated how he would be received by both Apple's employees and its fans. Following in the footsteps of Steve Jobs was never going to be easy, but in the eyes of Apple, Cook's doing a fantastic job.
[Via 9to5Mac]