Tim Cook speaks at Goldman Sachs Tech Conference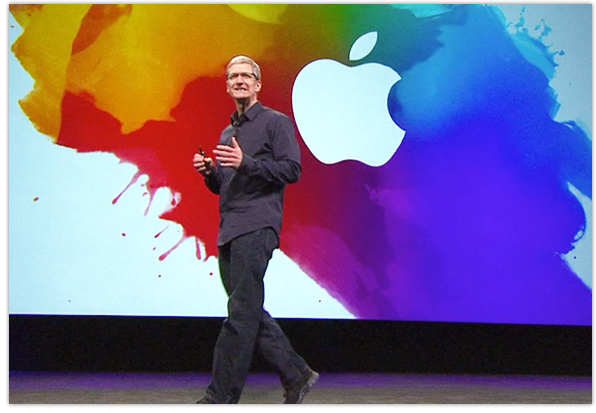 Apple CEO Tim Cook spoke at the Goldman Sachs Internet and Technology Conference in San Francisco earlier today, where he discussed a wide range of subjects including the company's culture of innovation, reaching iPhone growth limits, smartphone display sizes, and making cheaper products.
For those who weren't able to listen to Apple's live streaming audio from the event, courtesy of MacRumors and Cult of Mac, here's some of the highlights.
On Apple's perceived depression-era mentality:
Apple doesn't have a depression-era mentality. Apple makes bold and ambitious bets on products, and we're conservative financially. But if you look at what we done in terms of investment, last year we invested $10 billion, and will do similar this year. My definition of a depression-era mentality is not a company that invests tens of billions a year. And when you combine that with the fact that we announced last year we're returning $140 billion, I don't know how a company with a depression era mindset would do those things.
On Apple's culture of innovation
It's never been stronger. It's so embedded in Apple, the desire to make the very best products in the world. It's in the DNA of the company, and so I feel fantastic about it. Now, if you look at some essentials for innovation, there's no formula. But some of the essentials are skills and leadership. If you look at skills, Apple is in a unique and unrivaled position – expertise in software, hardware, and services. Consumers want an elegant experience where technology floats to background and customer is at the center. The real magic happens at the intersection of software, hardware, and services, and we have the ability to innovate and create magic there.
On reaching a natural limit on iPhone growth
We don't have the word limit in our vocabulary. It's because of that we've been able to do things for so many years, and deliver things people never knew they needed. When I look at smartphone market I see a market that was at 700 million last year, projected to double over next four years. Over the long term all phones will be smartphones and there are a lot more people in the world than 1.4 billion. And people like to upgrade regularly. This is an enormous market to get to.
On the iPhone's display size
I don't want to say what we will do or won't do. The way companies compete is with two things, specs and price. In the camera business people say "I have the most megapixels". Do you know the speed of an AX processor? Does it really matter at the end of the day? You want a fabulous experience when you use the product. If you look at displays, some people ar focused on size. There are a few other things about the display that important. Some people use OLED displays, the colour saturation is awful.
On making cheaper products
We wouldn't do anything we don't consider to be a great product. That's just not who we are. That said, if you look at what we've done for people who are price sensitive, we've lowered the price of the iPhone 4 and 4S as of last September, and last quarter we didn't have enough supply of the iPhone 4. It surprised us.
On the iPad mini and cannibalization
I get asked about cannibalization a lot. The first time I remember being asked about this was the iBook versus the PowerBook. When the iPad came out, people said we were going to kill the Mac. The truth is we don't think about that. If we don't cannibalize, someone else will. In the case of iPad, the Windows PC market is huge, and there's a lot more there to cannibalize than there is of Mac. If a company ever begins to use cannibalization as a major factor in their decision-making, it's the beginning of the end. Because if they don't, someone else will.
MacRumors has put together a more comprehensive roundup of Cook's presentation which is definitely well worth a read.
Alternatively, an audio recording is available on Apple's website.