Obama praises Apple in State of the Union Address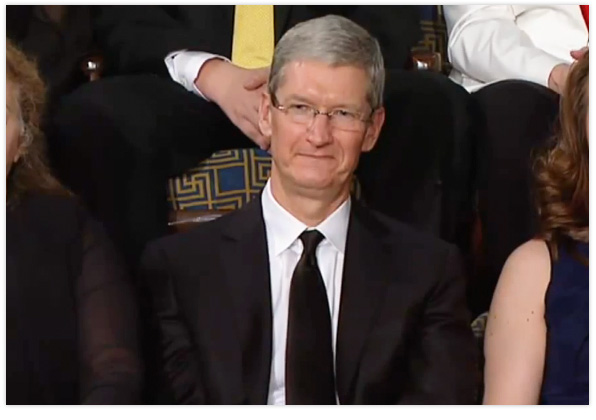 Following his presentation at the Goldman Sachs Conference yesterday, Apple CEO Tim Cook attended US President Barack Obama's State of the Union Address. Seated in first lady Michelle Obama's box, Cook was in a prime position as President Obama highlighted Apple's plans to return some Mac production to America.
From President Obama's State of the Union Address:
Our first priority is making America a magnet for new jobs and manufacturing.
After shedding jobs for more than 10 years, our manufacturers have added about 500,000 jobs over the past three. Caterpillar is bringing jobs back from Japan. Ford is bringing jobs back from Mexico. After locating plants in other countries like China, Intel is opening its most advanced plant right here at home. And this year, Apple will start making Macs in America again.
Apple is mentioned at 24:10 in this video of the address:
Cook announced that Apple would be moving the production of one of its existing Mac lines to the US during an interview with NBC's Brian Williams back in December. The Apple CEO still hasn't revealed which particular Mac that will be, but both the Mac mini and the Mac Pro have since been touted as the most likely candidates.
Laurene Powell Jobs – widow of late Apple CEO Steve Jobs – attended last year's State of the Union Address, during which Obama praised Jobs' entrepreneurial spirit.