This web app helps establish whether your Mac apps are Mountain Lion compatible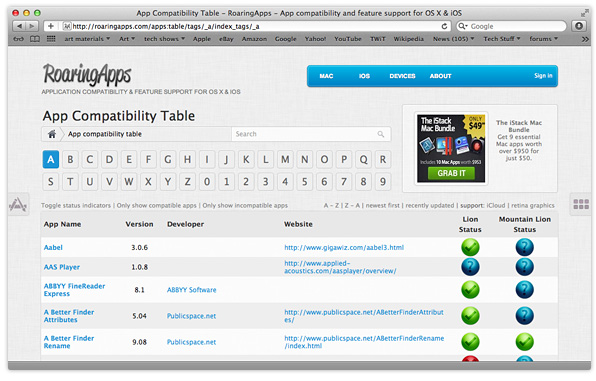 As you've probably discovered by now, Apple released OS X Mountain Lion today following five months of beta testing. If you're unsure whether you should upgrade because of compatibility with your favorite Mac apps, this handy web app will help you establish which software is already supported.
It's called Roaring Apps, and it's completely free to use. You don't have to download anything, either; simply visit the site in your web browser on any device and start searching. You can either browse the catalogue of software from A-Z, or if you're looking for a specific app, you can enter its name in the search box.
You can also sort apps to show the newest and most recently updated first, or filter them to show those with iCloud or Retina display support.
The results you get are simple. You'll see one of four icons, which will either tell you your app works great under Mountain Lion, doesn't work at all, is untested, or works but has a few issues. This will then help you establish which of your apps are supported, and whether it's worth upgrading to Mountain Lion on day one.
If you find that one or two of your apps aren't listed in the Roaring Apps database, but you choose to upgrade to Mountain Lion anyway. You can help other users by adding the app to the database yourself.
Roaring Apps also works with iOS apps, so be sure to bookmark its address for Apple's iOS 6 release later this year.