The first iPad mini reviews are in; Apple is onto something special yet again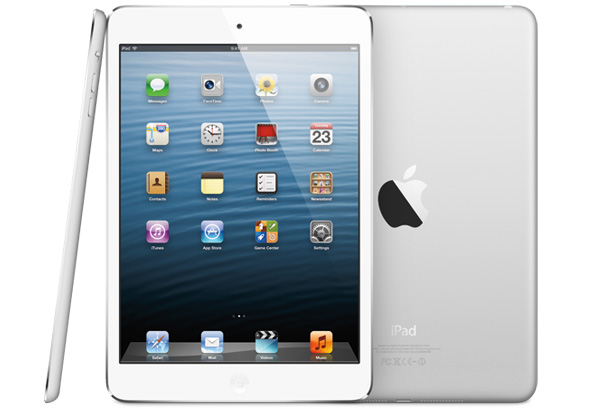 The iPad mini will go on sale in just two days, which means the world's biggest technology websites are beginning to publish their reviews. Like the iPhone 5, the new iPod touch, and just about anything else Apple creates, the iPad mini has gleaned heaps of praise. Yet again, it seems Apple's onto something special with its latest gadget. Here's what the reviewers had to say:
Joshua Topolsky – The Verge
"There's no tablet in this size range that's as beautifully constructed, works as flawlessly, or has such an incredible software selection. Would I prefer a higher-res display? Certainly. Would I trade it for the app selection or hardware design? For the consistency and smoothness of its software, or reliability of its battery? Absolutely not. And as someone who's been living with (and loving) Google's Nexus 7 tablet for a few months, I don't say that lightly.
The iPad mini hasn't wrapped up the "cheapest tablet" market by any stretch of the imagination. But the "best small tablet" market? Consider it captured." – Full review
Tim Stevens – Engadget
"This isn't just an Apple tablet made to a budget. This isn't just a shrunken-down iPad. This is, in many ways, Apple's best tablet yet, an incredibly thin, remarkably light, obviously well-constructed device that offers phenomenal battery life. No, the performance doesn't match Apple's latest and yes, that display is a little lacking in resolution, but nothing else here will leave you wanting. At $329, this has a lot to offer over even Apple's more expensive tablets." – Full review
Jim Dalrymple – The Loop
"There are a couple of things you have to remember with the iPad mini. First, it isn't just a smaller iPad, but rather it feels like its own device.
Anything that is simply shrunk down or scaled up feels amateurish. The iPad mini feels like an iPad, it's something you can have fun with and accomplish tasks on.
The second thing is that what seems like a little bit of extra screen real estate on the iPad mini makes a huge difference. Everything just works on the mini — all of your old apps, iCloud, everything. It works.
The iPad mini is a well thought out device and it's exactly what you would expect from Apple." – Full review
Walt Mossberg – The Wall Street Journal
"I've been testing the iPad Mini for several days and found it does exactly what it promises: It brings the iPad experience to a smaller device. Every app that ran on my larger iPad ran perfectly on the Mini. I was able to use it one-handed and hold it for long periods of time without tiring. My only complaints were that it's a tad too wide to fit in most of my pockets, and the screen resolution is a big step backwards from the Retina display on the current large iPad." – Full review
Scott Stein – CNET
"If the iPad Mini had a Retina Display, a newer A6 processor, and a slightly lower price, it would be the must-have Apple gadget of the year. Even without that, it's still incredibly appealing. Its $329 price still makes it one of the least-expensive iOS gadgets Apple makes. Does it make more sense than a $299 iPod Touch with the same processor, twice the storage, and a sharper, if smaller, screen? The Touch is a tiny thing; the iPad Mini can be used at a distance, to read and even to type. So can a Touch, but it's not as comfy. It comes down to choice. The iPad Mini works with all of Apple's apps. It's superior for magazines and news, and for illustrated books." – Full review
Shane Richmond – The Telegraph
"The sacrifice in screen size from a 10-inch tablet is balanced out by the more convenient size. You can hold it in one hand, slip it into a jacket pocket or a handbag and still have all the power of an iPad at your fingertips. In practice the smaller screen size is not much of a problem and it is because of that 0.9-inches, which gives 35 per cent more screen area than the Nexus 7 or Kindle Fire HD." – Full review
Charles Arthur – The Guardian
"Lining those pluses and minuses up against those for the Nexus 7 – which garnered four stars – there's no doubt that this is indeed a five-star device. The 70% difference in comparative price is more than made up by the difference in build quality and software selection. Apple is going to sell a lot of these – quite possibly more than the "large" iPad – in this quarter. The only way Apple could improve on this product would be (as some people are already agitating) to give it a retina screen and somehow make it lighter. That might happen at some point. You can wait if you like; other people, in the meantime, will be buying this one." – Full review
So there you have it: the iPad mini is a 7.9-inch tablet that is, in many ways, way ahead of rival 7-inch tablets. The things you would expect to stand out, such as the iPad mini's build quality and its iOS ecosystem, give it a big advantage over devices like the Nexus 7 or the Kindle Fire HD.
While the iPad mini may not be the cheapest palm-sized tablet going, it appears to be great value for money when you consider that it's essentially just a regular iPad that's a little more portable than its siblings.