Steve Jobs… First, NeXT, One more thing…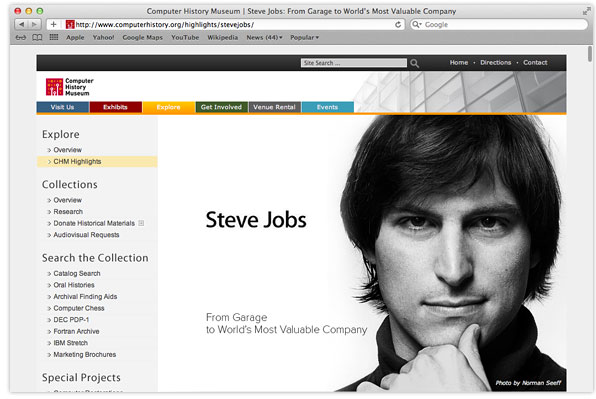 The Computer History Museum have this week launched a new online exhibition looking at the life of Steve Jobs. Titled 'Steve Jobs… First, NeXT, One more thing…' the exhibition includes an essay about the Apple co-founder, archival photographs and a 20 minute video from 1980.
The following is from a press release issued by the museum:
"Called "Steve Jobs… First, Last, One more thing…" the exhibit traces Jobs's life from his youth building 'Blue Boxes' with partner Steve Wozniak — devices that allowed its user to make free telephone calls — to head of the world's biggest company."

"The exhibit features rare footage of Jobs from 1980 speaking about the early days of Apple. "We had no idea what people would do with these things," Jobs says in the video, describing the 1977 Apple II computer that launched Apple into a major technology company."
The exhibition is definitely well worth a look at, especially for the video which I don't think has been previously available to view anywhere else.
Located in Mountain View, California, the museum has a collection of over 100,000 artifacts, 3000 of which are Apple-related. Those of us not lucky enough to live within traveling distance can view photos of many of the museum's collection via an online catalog.
[Via MacRumors]