Russian university unveils giant interactive iPhone memorial for Steve Jobs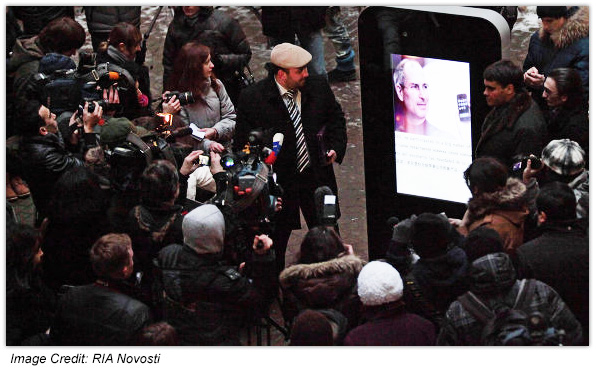 A giant, interactive memorial designed to look like an iPhone has been erected in the Russian city of St. Petersburg as a tribute to Apple co-founder and former CEO Steve Jobs. The monument features a large, bright display that shows slideshows and videos highlighting various moments throughout Jobs's life, including some of his famous speeches.
In addition to its large display, the monument is styled like one of Apple's hugely popular smartphones. It has silver sides to represent an aluminum bezel, there's a home button, what appears to be front- and rear-facing cameras, and even nooks in its sides that represent the iPhone's antennas.
The display itself is touch-sensitive, allowing visitors to select photos and videos from Jobs's incredibly successful career that they'd like to view. Each image also comes with a description, which is translated into several languages. On the back of the monument, there's a QR code which visitors can scan with their smartphones to see a website commemorating Jobs.
The giant iPhone is located in the courtyard of the St. Petersburg National Research University of Information Technologies, Mechanics and Optics, and anyone can visit it. It is said to be the result of a competition held last year which called for a memorial design, which received more than 200 submissions.
Jobs passed away in October 2011 aged 56 following a lengthy battle with pancreatic cancer. He founded Apple CEO in 1976 alongside Steve Wozniak and Ron Wayne, and he led the company to great success, launching hugely popular products like the iPod, the iPhone, and the iPad. Jobs also co-founded Pixar Animation Studios, then became a member of the board of directors at Walt Disney when Disney acquired Pixar in 2006.
[Via: The Next Web]