Review – Trickle for Twitter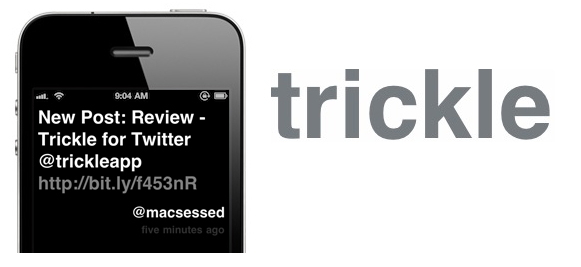 If you follow macsessed on Twitter, you will probably know I'm not the worlds most active tweeter. Bar a few tweets every couple of days I'm more of a passive user – I tend to use it to keep an eye on what's going on in the world. So in some ways Trickle for Twitter is the perfect app for me – and that's because it's a passive Twitter Client.
Because it's a passive Twitter client you can't create or reply to tweets in the app itself, that's not what it was designed for. Think of it more as a Twitter display – the best way to use it is while your iPhone or iPod Touch is docked. Whenever the people you follow tweet they get displayed on the screen, one at a time.
In terms of design, apps don't come much simpler than Trickle for Twitter, each tweet is displayed in bold white helvetica on a black background. Two icons located in the bottom right of the screen allow you to mark a tweet as a favourite or retweet it. You can choose how long each tweet is displayed for, and how often Trickle looks for new tweets. The simple design means you only have to glance across to read the screen, and if you need to, you can scroll backwards to view older tweets.
Settings in the app allow you to control how links are handled, and whether or not you always want to display the favourite and retweet icons. You can add multiple accounts to Trickle but you can't currently display tweets from lists. One feature that I'd like to see added is the ability to alter the text and background colours, though black and white does work well.
Trickle for Twitter also works on the iPad (it's a universal app), but personally I can see myself using the iPhone version more often. Although it looks great on the iPad I find it too distracting on the bigger screen.
Trickle for Twitter is available for just 59p ($0.99) and I think that's a fair price to pay – it's a well designed, easy to use app, that does what it promises very well.
Visit the developers site for more info.