Review – HazeOver for Mac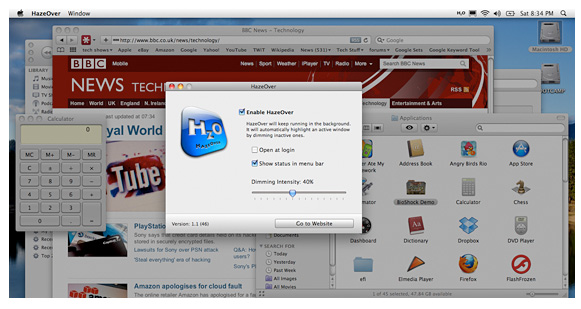 While I'm not sure I will have it enabled all the time, I love the idea of HazeOver. Created by Maxim Ananov, it's a Mac App designed to help you focus on the task at hand, by dimming out any inactive windows.
You can choose to alter the dimming intensity from 10%, which slightly greys out the inactive windows, right up to 80%, at which point the inactive windows are almost black. As you switch between windows there's a slight delay as the previously active window dims, which I quite like. But it would be good to see a future update that would allow users to alter the length of the delay, and/or turn if off completely. There's also an option to have the app open at login.
The only part of HazeOver I don't like is the app icon. I know I'm being very picky, and it doesn't make any difference to the high quality of the app itself. Personally I just think it looks a little ugly (sorry Maxim). I should point out that you can access HazeOver from a smaller menu bar icon, you don't have to keep it in the dock.
HazeOver currently costs £0.59 in the UK and $0.99 in the US. It looks like the price was dropped earlier today, I paid £1.19 for it yesterday! If you aren't sure whether it's an app you would find useful, you might want to take a look at this short demo video.
Thanks to Ewan Rankin, for alerting me to HazeOver on the latest episode of his excellent Bagel Tech Mac show.