Review – 4oD Catch Up for iPad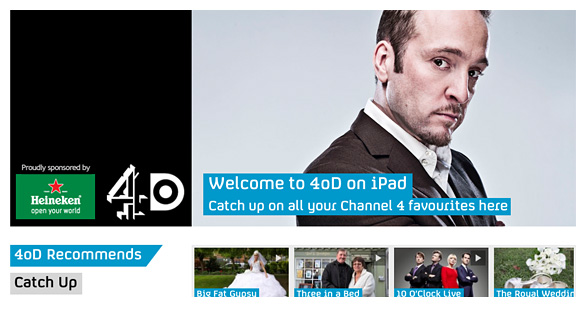 Launched yesterday, 4oD Catch Up is an app that allows iPad users based in the UK to watch TV shows previously broadcast on Channel 4 and it's sister channels. While the 4oD service has been available to view online for a couple of years it requires flash, so has never been accessible on the iPad.
For the benefit of non-UK readers, Channel 4 is a publicly-owned, commercially-funded public service broadcaster based here in the UK. It broadcasts a wide range of programmes including news, lifestyle, sitcoms and documentaries. Notable shows include The IT Crowd, The Ricky Gervais Show and various Derren Brown specials.
When you first launch the 4oD Catch Up App you are immediately reminded that Channel 4 is a commercially funded channel, the splash screen features the app's main sponsor Heineken. Thankfully it's subtly done, and fades into the main home screen after a few seconds.
The top half of the home screen features the 4oD logo and a welcome message, while the bottom half is where you can find recommendations, categories, A-Z of programmes and a scrollable featured shows section.
While the design of the home screen is clean and easy to navigate I can't help thinking that too much of it is taken up by the logo and welcome message, which although currently features Derren Brown doesn't actually link to his show. But that's a minor criticism and I expect it will be improved over time.
It's when you start watching a show where I expect the app may receive some negative reviews, and that's because each show begins with a one minute advertisement. Personally I have mixed feelings about them, while I'm not suggesting all advertising should be removed I'd prefer to see them reduced to 30 seconds. But even if they do continue to be one minute in length, it's not enough to put me off using the app, as the shows themselves stream smoothly at a decent quality.
One feature I really like is that you can have each programme play in a small window and continue to browse and read about other shows below, and of course you can choose to return to full screen at any point. You can also pause and scub forwards & backwards.
At the moment the app only provides access to the last 30 days of broadcasts, which I was initially a little disappointed about – the browser version of 4oD has a much more extensive range of shows. But I've just read on the Channel 4 website that archived content will be released at a later date.
Overall I think the creators of the 4oD App (Nice Agency) have done a good job. As previously mentioned I think there are areas where it could be improved, and I'd like to see a future update allow you to search for shows. But if like me, you have wanted to watch 4oD on the iPad for a while, downloading it is a bit of a no-brainer – especially as it's currently free.
A version of the app for the iPhone will be released at a later date.