Review – Fantastical for Mac: quick & easy calendaring
Fantastical for Mac is a tool from Flexibits that promises to be "the calendar you'll actually enjoy using." It isn't designed to take over your existing calendar application, but rather works alongside it in your menu bar to make calendaring quick and simple.
Fantastical supports iCal, Entourage and Outlook and adds a small, unobtrusive calendar icon to your menu bar. When you click on the icon, a tray will drop down to display your calendar and all of your upcoming appointments. The first thing you'll notice is Fantastical's highly-polished user interface and clear, uncomplicated layout, into which has clearly gone a lot of effort.
There are beautiful little details that really make it stand out, such as the virtual staples that hold your calendar together, the coloured pencil circles around the day's date, and pop-ups colour-coded to match your individual calendars when you click on an appointment. There's also a nice little anchor in the bottom, left-hand corner which will stop Fantastical from retreating back into the menu bar when you move your cursor away or click on another window.
Its most impressive feature is its 'natural language event creation'. This allows you to schedule new appointments by simply writing them in plain English. For example, instead of typing a title, then selecting a date, time, and location; you can simply type "Meeting at 2 pm tomorrow with David at The Royal Arms." Fantastical understands exactly what you've written and creates a calendar event for you. It's as easy as that.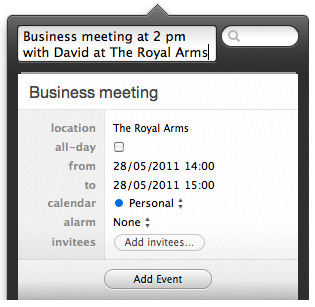 Fantastical's preferences allow you to customise the application in a number of ways to suit your personal taste. You can choose to have it open every time you login to your system; set your default calendar application and choose which of your calendars you wish to view; change the information displayed in the menu bar icon; select how many days you'd like to see at once; and set up alarms.
With Fantastical installed, your use of a dedicated calendar application such as iCal will reduce dramatically. You will discover there is no longer a need to open an application every time you want to view your upcoming appointments or quickly add new events – just one click on the Fantastical icon and you have everything you need in an instant.
There is, however, one downside to this nearly faultless little tool. Once you have created an event, you cannot edit or delete it within Fantastical. If you make a mistake while quickly trying to set up a meeting, or you hit return too soon, you'll have to open up your calendar application to amend or delete your new entry.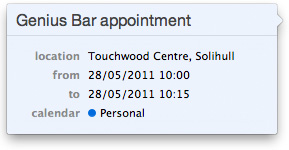 Apart from that, there really aren't any faults to pick with this application. It's very reliable and I haven't experienced a single crash or error in over a week's use. It is a little pricey for what it is, I think, however, it does a great job and will save you a lot of time and effort if you find yourself with your nose in your calendar on a regular basis.
Overall Fantastical is a really great application, and if you use a calendar application regularly, you'll be doing yourself a favour if you buy it! It's currently on offer in the Mac App Store for £8.99 ($14.99).