Five alternatives to Safari on the iPad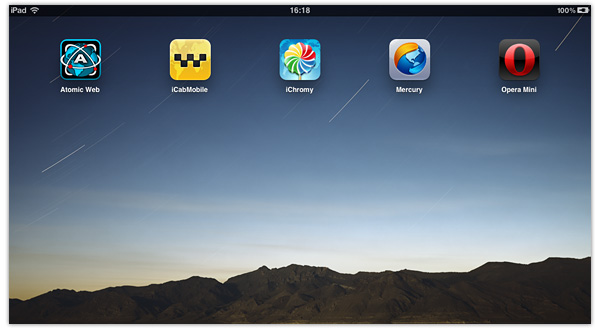 I love using my iPad to surf the web, and while I'm fairly happy with Safari, sometimes I miss the advanced features and options that you find on most desktop browsers. Thankfully there are a number of excellent third-party browsers available for the iPad that have those features, and I've picked out five of the best.
Most of the browsers featured below have so many options that it would be impossible to list them all, so instead I've just covered the main ones. They range in price from free to £1.19. ($1.99).
Atomic Web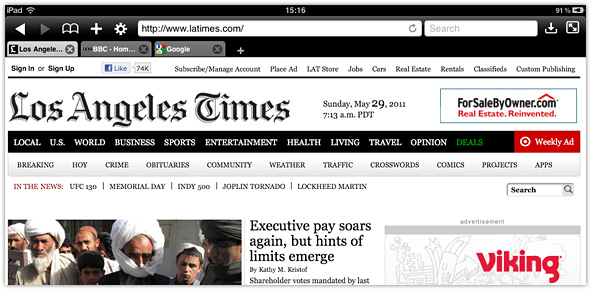 Atomic Web was the first third-party browser I downloaded on my iPad. It has a huge range of settings and options including the ability to change the browser identity – this is a useful feature for websites that serve different content if they detect an iPad, you can trick them into thinking you are using desktop versions of Safari, Firefox or Internet Explorer.
Atomic Web's other notable features include being able to lock the rotation of the iPad screen, downloads with Dropbox support, ad blocking, web compression for faster loading and the choice of 14 different colour themes. Atomic Web is available for £0.59 ($0.99), and there's also a free lite version.
iCab Mobile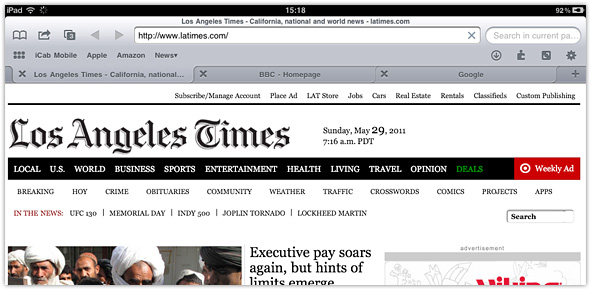 iCab Mobile might cost more than the other four browsers featured but I'd argue that it's the best. It looks great and has a massive range of features and options. Besides standard tabbed browsing it has visual tabs, and you can configure a start page featuring thumbnails of your favourite websites.
The general settings include being able to choose which icons appear in the toolbar, filters that allow you to block adverts & analytic tracking, configurable gestures and options to control whether or not sites open in new tabs or the same window. Like Atomic Web, there's a setting that let's you change the browser identity, but iCab Mobile takes it to the next level – besides the usual popular browsers you can also change the identity to Googlebot, Playstation 3 and the Nexus One Android phone!
A jigsaw piece icon in the toolbar allows you to access a wide range of 'modules' including Google Translation, auto refresh, source code viewer and a calculator. iCab Mobile costs £1.19 ($1.99).
iChromy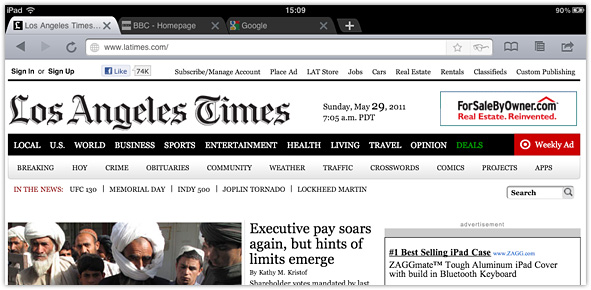 iChromy is a Google Chrome inspired browser created by Diigo. While it has far fewer features compared to the other four browsers (no browser identity option), it does have tabbed browsing, and just like Chrome the tabs are located at the top of the window above the url bar.
If you want to save a page for reading later offline there's an option called reading list which is activated by tapping on a reading glasses icon.
As you scroll down a page in iChromy the url bar disappears – the idea being that it allows more room for the content, if you want to make it reappear you just tap on one of the tabs. iChromy is free.
Mercury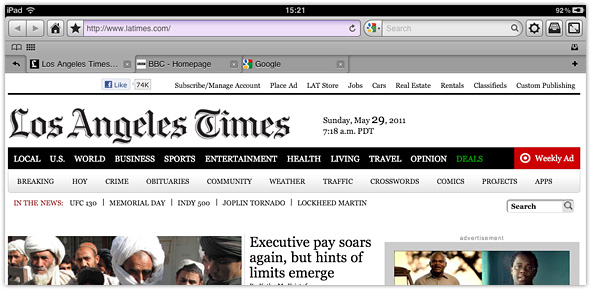 Mercury is a browser created by iLegendSoft. In terms of options there isn't much to choose between it and Atomic Web, and they are both priced the same. While Atomic Web allows you to change the colour, Mercury has 11 different themes including Christmas, Wood, Dark Blue & Red SUV.
There are some minor differences regarding the interface – Unlike Atomic you can view your open windows as thumbnails, and there's a small button located at the bottom right of each page which when tapped brings up a circular menu with links to settings, browser history and more. Mercury costs £0.59 ($0.99), or the lite version is free.
Opera Mini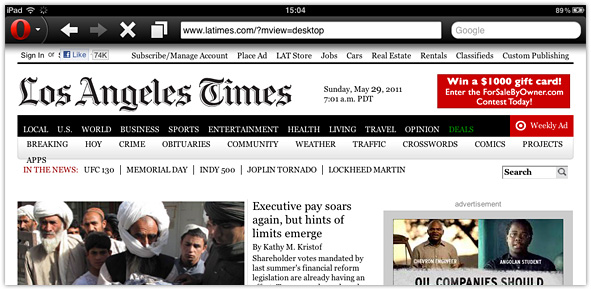 Opera Mini has been available for the iPhone for a while now but the iPad version was only released a few days ago. While all the other browsers have traditional tabbed browsing, Opera Mini only has visual tabs – you click on the icon to see thumbnails of your other open windows. The only downside to this method is that it you can't see the names of the other tabbed windows until you click on the icon.
Other features include the ability to reduce image quality for faster loading, and you can create a start page featuring 9 thumbnails of your favourite sites. One problem I noticed while using Opera Mini was that some sites loaded the mobile version, even though I had the option turned off, and you can't change the browser identity.
Overall, Opera Mini has one of the best looking interfaces, but can't compete in terms of options and features with Atomic Web, iCab Mini or Mercury, it is free however so well worth a try.
What's your favourite iPad browser? Let me know by leaving a comment below.