Amazon launches Mac download store – doomed from the start?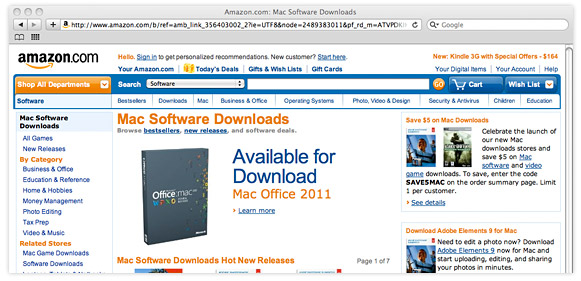 In an effort to compete with Apple's Mac App Store, Amazon has just launched its own download store for Mac OS X that boasts a plethora of applications and games from some of the biggest developers, including Aspyr, Feral Interactive and Electronic Arts. Though it may be good for Apple to have some competition when it comes to digital software delivery, I don't think there's much hope for Amazon's latest venture.
Seemingly available to just those in the U.S. to begin with, the store already packs over 250 of the biggest software titles for the Mac; some of which aren't available in Apple's Mac App Store, such as Microsoft Office. However, it seems to me that this is Amazon's only advantage.
Unlike the Mac App Store, Amazon's download store doesn't have a dedicated application. When you purchase a software title, you get a basic installer for each, with no integrated installation system. This means that when there's updates for your apps & games, you won't know about them unless your software tells you, or you go ahead and find the latest versions for yourself. There's no application to neatly manage all of your purchases in one place, with a quick and easy view of available updates – like there is with the Mac App Store. Though you do get a "digital locker" in which to store your purchases.
Amazon's biggest disadvantage – and it's a pretty substantial one – is that the Mac App Store is now a standard part of the Mac OS X operating system. With the latest build of Mac OS X, and with the upcoming Lion operating system, the Mac App Store is already there for you to browse and buy – you have one-click access to a wonderful world of apps and games.
With that said, the only time I can envisage Mac users choosing instead to use the Amazon download store is if they are desperate for a title they can't get their hands on from Apple. Or if Amazon's prices are significantly lower then Apples, which, right now, they don't seem to be.
Currently it would seem Amazon's Mac download store is doomed from the start – unless, of course, it can offer something really unique. And I hope Amazon proves me wrong.
To celebrate the launch of the Mac download store, Amazon is offering a coupon for $5 off your first store purchase up until June 1st.