References to next-gen iPhone & iPad found in iOS 5.1 beta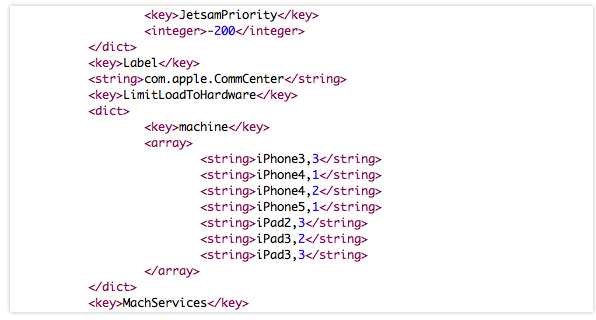 Code strings discovered in iOS 5.1 beta, which was released to developers yesterday, make reference to next-generation versions of Apple's smartphone and tablet. As you can see in the image above (courtesy of @FilippoBiga), the strings include product identifiers for an 'iPhone5,1' and an 'iPad3,3'.
9to5Mac, who were one of the first sites to post the discovery, point out the significance of the iPhone5,1 identifier:
"This comes right after the iPhone 4Ss 4,1 identifier. The jump from 4,1 to 5,1 represents major internal changes, meaning the iPhone 5/6 will pack in a brand-new processor. The A6 in all likelihood."
Besides a faster processor, which seems a given, many are hoping to see Apple give the next iPhone a bigger 4″ screen – a similar size to those found on some of the most recent Android phones.
As for the iPad 3, which could be released around March 2012, hopefully the biggest change will see the tablet given the same retina display technology first introduced with the iPhone 4.
What features would you like to see Apple's next-generation iPhone & iPad have?