OS X Lion 10.7.1 update now available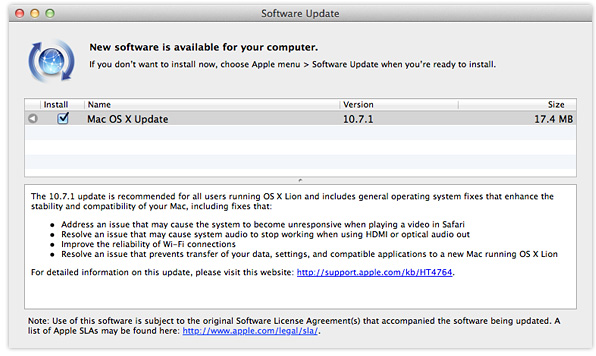 The first public update to OS X Lion since its release on the 20th of July, is now available to download via Software Update. The update, which takes Lion to version 10.7.1, addresses a number of bugs, including one which caused some 2011 iMacs to freeze whilst playing videos in Safari.
From Apple's 10.7.1 support page:
The OS X Lion v10.7.1 Update is recommended for all users running OS X Lion and includes general operating system fixes that enhance the stability and compatibility of your Mac, including fixes that:
Address an issue that may cause the system to become unresponsive when playing a video in Safari.
Resolve an issue that may cause system audio to stop working when using HDMI or optical audio out.
Improve the reliability of Wi-Fi connections.
Resolve an issue that prevents transfer of your data, settings, and compatible applications to a new Mac running OS X Lion.
Resolve an issue in which an admin user account could be missing after upgrading to OS X Lion.
The 10.7.1 update can also be downloaded from Apple's OS X Lion support site, where you will find both client and server versions. Apple recommends backing up your Mac before running it.