Jacket design of forthcoming Steve Jobs biography revealed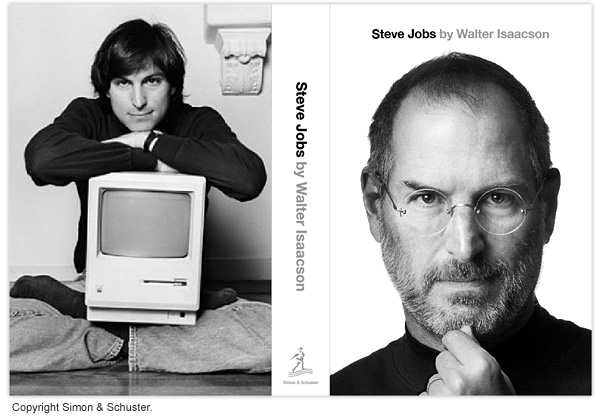 The image above is the jacket design for the long-awaited Steve Jobs biography, set for release on the 21st of November this year. Revealed earlier today, the design was sent to Fortune's Philip Elmer-DeWitt by the author of the book – Walter Isaacson.
The front cover of the book, which is titled Steve Jobs by Walter Isaacson, features a photograph taken by Albert Watson for Fortune in 2009, and the entire back cover is filled by a Norman Seef photograph used in a 1984 edition of Rolling Stone.
Apart from the photos, the only other elements include the title in the sans-serif font Helvetica, and a fairly unobtrusive Simon & Schuster (publishers) logo. Personally, I think the jacket looks great, as you can hopefully tell from the design of this website, I'm a fan of simple, clean design.
Overview of the book from Barnes & Noble:
"From bestselling author Walter Isaacson comes the landmark biography of Apple co-founder Steve Jobs. In Steve Jobs: A Biography, Isaacson provides an extraordinary account of Jobs' professional and personal life. Drawn from three years of exclusive and unprecedented interviews Isaacson has conducted with Jobs as well as extensive interviews with Jobs' family members, key colleagues from Apple and its competitors, Steve Jobs is the definitive portrait of the greatest innovator of his generation."
While there have been numerous Steve Jobs biographies released over the years, this is the first one that has been written with the full consent and support of the Apple CEO – which is one of the reasons why it's so eagerly awaited.
I'll definitely be ordering a copy, what about you?
[Via MacRumors]