NVIDIA announces Quadro K5000 GPU for Mac Pro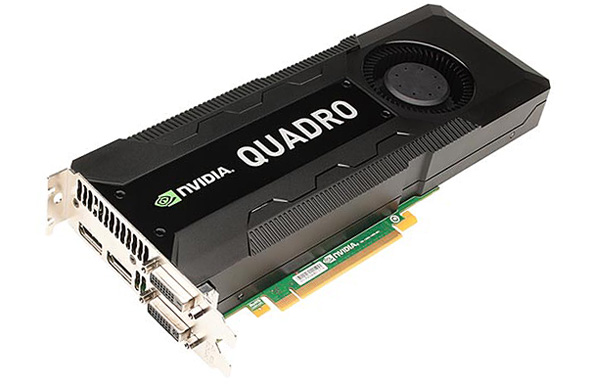 NVIDIA has this week announced the Quadro K5000 graphics card for the Mac Pro. Described by the company as the most powerful professional-class GPU ever for the Mac platform, the next-generation card supports 4K resolutions and promises twice the performance of its predecessor, the Quadro 4000.
With an estimated price of $2249 (around £1405), the Quadro K5000 is aimed at professional users who need to perform graphic-intensive tasks such as video editing, color correction, compositing, design visualisation, and 3D rendering.
Key features of the Quadro K5000 include:
Cinema 4K display support (4096×2160 resolution), which enables content creators to process and view high resolution cinema content
A new display engine that can drive up to four displays simultaneously
4 GB graphics memory that provides faster interactivity when using design and content creation applications
Based on NVIDIA Kepler architecture, which enables the Quadro K5000 GPU for Mac to run key content creation applications up to 2x faster at lower power than the Fermi-based Quadro 4000 for Mac
Support for up to two Quadro K5000 GPUs for Mac in a single Mac Pro
Support for OpenGL, OpenCL and NVIDIA CUDA™
The NVIDIA Quadro K5000 is expected to launch later this year.