New iMac configuration options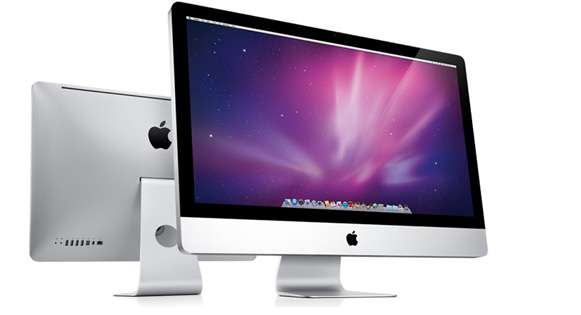 In a few weeks time I will hopefully be in the possession of one of the new 27″ iMacs, and once I've had a chance to play with it I will post a review on here. In the meantime, I thought I would cover some of the different options you can choose from when placing your order. Hopefully it will also be useful for anybody that can't decide which iMac to buy.
Screen Size
On the face of it, choosing between the two screen sizes 21″ vs 27″ might sound like an easy decision to make. For many people 27″ will probably sound too big. But there are other factors to consider such as the amount of RAM you can install, processor speed, number of Thunderbolt ports etc, all of which vary between the two screen sizes.
Processor Speed
All the new iMacs feature Quad-Core Intel i5 processors as standard, ranging from 2.5GHz on the base 21″ model, right up to 3.1GHz on the high end 27″ model. You can also choose to add a faster 3.4GHz Quad-Core Intel Core i7 to the high end iMac, though unless you need to do video editing or other intensive tasks even the slowest i5 will be more than fast enough for general use.
Hard Drives
The base 21″ iMac comes with a 500GB hard drive as standard with no option to upgrade (at least not when you place your order). The others all come with 1TB hard drives as standard, with the option to upgrade to 2TB. Personally 1TB is more than enough for me, plus I already have a couple of external hard drives for backups.
You can also choose to add an SSD to all but the base 21″ 2.5GHz iMac, either a single 256GB SSD or an SSD + Serial ATA drive (1 or 2TB). It is an expensive option, and will currently add 2-3 weeks onto the shipping time for the 21″ model, and 4-6 weeks for the 27″. But I think it's worth it, personally I'd even go for a slower processor if it meant I could stretch to the SDD option.
Owning a MacBook Air has opened up my eyes to how fast solid state storage can be. Even though the Air has a slow processor, booting and launching apps has never felt faster. I can only imagine how fast it will be combined with the iMac's power.
RAM
All the iMacs come with 4GB of RAM as standard. The 21″ can take a maximum of 8GB (2 x 4GB) and the 27″ can take a maximum of 16GB (4 x 4GB). Although it's not quite as expensive as it has been in the past, you can still make considerable savings by purchasing RAM from the likes of Crucial and installing it yourself, rather than having Apple install it for you. Thankfully upgrading the RAM is a quick and easy process for all the recent iMacs, and unless you damage the iMac while doing it, you won't void your warranty.
Graphics
The two 21″ and the 2.7GHz 27″ iMacs come with a 512MB AMD Radeon HD 6750M graphics card with no option to upgrade. The 3.1GHz 27″ iMac comes with a faster 1GB AMD Radeon HD 6970M, or you can opt for a 2GB version of the same card for a bit more money. Unless you plan on using the iMac to play graphically intensive games, I personally don't view the graphics card as a compelling factor when choosing between the different models.
Thunderbolt Ports
The 21″ models have one Thunderbolt port and the 27″ models have two. Not only does this mean you will be able to add twice the number of devices on the 27″ iMac (as many as 12), you can also add two external displays, vs just one on the 21″ version. It's worth pointing out that Thunderbolt is still so new that compatible devices are yet to be released. But if you are planning on using the iMac for the next 2-3 years, and are the kind of person who might need to add multiple devices, it's something to think about. You can read about the benefits of Thunderbolt here.
All of the other ports (USB, FireWire, etc) are exactly the same on all models.
Accessories
By default all the iMacs ship with a wireless Bluetooth keyboard, and personally I think it's great. But if you would rather have a full sized wired version the option is there, you pay the same price for both.
You can also choose between a Magic Mouse, Magic Trackpad or standard Apple Mouse (same price for all 3). Unless you already own one I'd go for the Magic Trackpad. The standard Apple mouse is terrible (scroll ball needs constant cleaning) and although the Magic Mouse is a vast improvement I'm not keen it's ergonomics. Since buying a Magic Trackpad I don't bother with a mouse at all, and the next version of OS X (Lion) looks set to make even more use of the Trackpad's gestures.
If you are ordering a new iMac let me know which configuration you plan to go for (and why) below.