Macs in the market?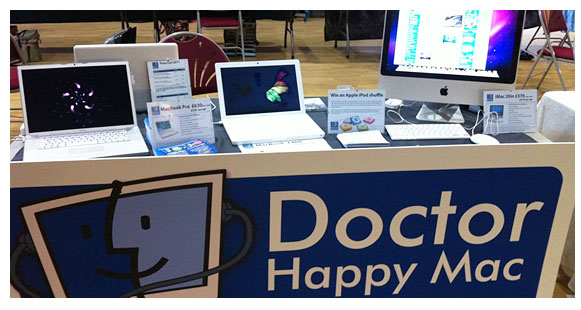 I can't remember the last time I visited my local market. While I'm sure it's popular with many people, it just doesn't appeal to me. Now if I lived in Cirencester (Gloucestershire, England), there's a good chance I'd visit my local market on a more frequent basis, and that's because Cirencester market has a Mac stall!
Obviously a market doesn't sound like the ideal place to sell expensive items like Macs, but this isn't your typical market. Held in a rather prestigious looking building called the Corn Hall, recent visitors have included members of the Royal Family!
The stall is run by Andrew Stephens, who saw it as a way to expand his Mac-centred business (Doctor Happy Mac) without having to invest in a more traditional retail presence:
"Opening a shop in town is an expensive business, which is why I've decided to come to the market (so to speak) this way. Cirencester market has just the right sort of visitors, as does Cirencester in general."
Besides selling reconditioned iMacs & MacBooks directly from the stall, Andrew is also able to use it to promote his other services which include Mac support, training, upgrades and repairs.
Andrew is a regular guest on the Bagel Tech Mac podcast (recommended), which is where I first heard about his stall, and you can read more about him and his business on his Doctor Happy Mac website.
Oh, and if you live in the Cotswolds, look out for his van which features his distinctive Finder inspired logo!