Microsoft announces new 'Surface' tablet PC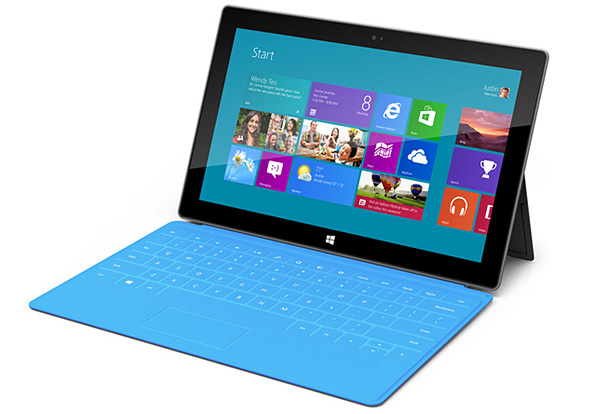 At an event held yesterday in Hollywood, Microsoft unveiled 'Surface', a tablet PC designed to compete with Apple's genre-defining iPad. Described as the "ultimate stage for Windows", the Redmond-based company will be releasing two models of the device – one with an ARM processor running Windows RT, and one with an Intel processor running Windows 8 Pro.
Aimed at the consumer market, the ARM-based Surface tablet is 9.3mm thick, weighs 1.5lbs, has one USB 2.0 port, and is available with either 32GB or 64GB of storage. The Intel-based Surface tablet, which is aimed at the professional market, is 13.5mm thick, weighs 1.9lbs, has one USB 3.0 port, and is available with either 64GB or 128GB of storage.
Both tablets have 10.6-inch displays offering a 16:9 aspect ratio, magnesium casing and a built-in kickstand.
Microsoft also announced a couple of Smart Cover-style accessories for the devices sporting built-in keyboards and touch-pads. The 3mm thin Touch Cover has a pressure-sensitive keyboard, while the thicker 5mm Type Cover has traditional moving keys.
Pricing for the Surface tablets has not been revealed yet, though in a press release accompanying the event, Microsoft state that they expect them to be competitive with comparable ARM tablets and Intel Ultrabook PCs.