Matrox announces world's first Thunderbolt docking stations for MacBooks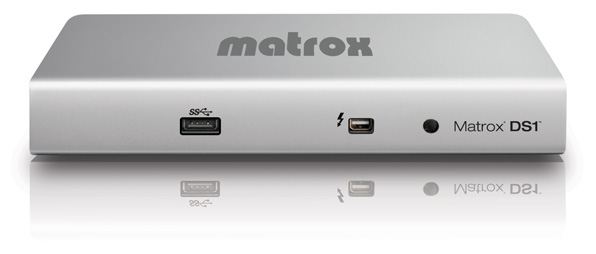 Matrox has announced the world's first family of Thunderbolt docking stations for Apple's MacBook Air and MacBook Pro. The Matrix DS1 series promises to deliver "all the productivity benefits of a desktop computer," using just a single Thunderbolt port.
Using the Matrox DS1, users can connect their MacBook Air or MacBook Pro to a large DVI or HDMI display, a USB keyboard and mouse, an Ethernet wired network, and plenty of other peripherals — using just one Thunderbolt port on their machine. It claims to be ideal for students, corporate environments, and home offices.
"MacBook Pro and MacBook Air users can now come and go without disconnecting and re-connecting all their peripherals, tame the cables cluttering their desks, and save wear-and-tear on their computers," said Charles Amyot, product manager at Matrox. "One Thunderbolt connection to Matrox DS1 does it all!"
The Matrox DS1's connectivity options include one 'SuperSpeed' USB 3.0 port, two USB 2.0 ports, a microphone input, and a speaker/headphone jack. One version comes with a DVI port, the other comes with an HDMI port. Its compact, space-saving design is made entirely out of aluminium — not only to match your MacBook's design, but also to be strong and robust.
The Matrox DS1 series are on sale in the United States now, priced at $249 (approx. £154). Matrox says they'll be making their way around the world in early January.
Will you be picking up a Matrox DS1 for your MacBook?